Burma clashes: Kachin fighters 'destroy bridges'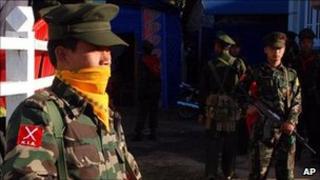 Burmese rebels say they have destroyed several bridges in the north of the country to prevent attacks by the army.
The rebels, from Kachin state, said they had blown up two bridges in neighbouring Shan state.
Clashes broke out last week near to the site of a hydropower project being built to provide electricity to China.
Separately, activists said two Kachin political leaders who are not linked to the current fighting have been put under house arrest.
The army is currently fighting rebels from the Kachin Independence Army.
The KIA is one of several militias aligned with Burma's ethnic minority groups, who for decades fought against the central government.
Most of the ethnic militias have accepted ceasefire deals with the government, and have agreed to be assimilated into border control forces.
But a truce between the government and the KIA broke down last year when they refused to become border guards.
The army apparently sparked the clashes when soldiers attempted to move KIA fighters away from the site of a Chinese hydroelectric power plant.
The Kachins have repeatedly warned against the building of the plant, saying it will destroy the livelihoods of many people in the area.
Reports say more than 2,000 people have fled the fighting - including several Chinese engineers working on the hydroelectric plant.
The Thailand-based Kachin News Group reported that the destroyed bridges were on a major trading route into China.
Meanwhile, Kachin activists said the government had put under house arrest Zahkung Ting Ying and Waw Lau - who belong to militant groups that have accepted a government ceasefire.
The government is reportedly trying to use their militias to attack the KIA.