Malaysia couple charged over Indonesian maid's death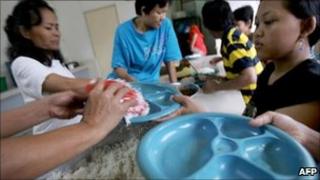 A Malaysian couple has been charged with the murder of an Indonesian maid.
Isti Komariyah, 26, was brought to a hospital in the Malaysian capital Kuala Lumpur earlier this month, where she was pronounced dead.
Her Malaysian employers did not enter a plea. If convicted, the pair could face a death sentence.
This is the first abuse case involving domestic workers to come to trial since the country signed an agreement with Indonesia last month.
Indonesia banned its citizens from working as maids in Malaysia in June 2009, after allegations of abuse emerged.
The new deal aims to improve working conditions for maids, guaranteeing them one day off a week.
Under the agreement, they will also be allowed to keep their passports, rather than having to give them to their employers.
Unreported cases
The 26-year-old maid at the centre of the latest case was reported to have bruises all over her face and body, and was declared dead on arrival at hospital on 5 June.
Her employers Fong Kong Meng, 55, and his wife, Teoh Ching Yen, 53, were charged with her murder, their lawyer said.
Isti had worked for them since July 2010.
More than one million Indonesians work in Malaysia, most as maids or labourers.
Human rights activists say maids are the most vulnerable because they are not considered workers and have no protection under labour laws.
They have criticised the Malaysian authorities for not addressing this under the new agreement with Indonesia, that is meant to give better protection to domestic workers.
Indonesian officials say this case will not affect their deal to start sending maids to Malaysia again.
The BBC's Jennifer Pak in Kuala Lumpur says out of all abuse cases involving domestic workers, only a small percentage of maids officially report being beaten.
But these are usually the stories that are highlighted by the media, raising tensions between the two countries, our correspondent says.
Last year, a Malaysian woman was jailed for inflicting injuries on her maid using hot water, scissors and a hammer.