'Match-fixing' South Korean footballers banned for life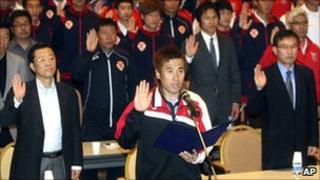 The top professional football league in South Korea has imposed lifetime bans on 10 players accused of match fixing.
One of them is said to have accepted 120m won ($110,000; £67,000) to lose a match, and then shared the proceeds with team mates.
Eight of the players indicted are from the Daejeon Citizen team. It is the toughest-ever penalty issued in the K-League's 28-year history.
They could face up to seven years in jail if found guilty in court.
Daejeon Citizen lost 0-3 to the Pohang Steelers on 6 April.
Brokers and players from other teams have also been indicted.
An 11th player received a five-year ban.
The scandal has also been linked to a player found dead last month in a hotel room.
The South Korean news agency Yonhap reported a suicide note had been discovered referring to the match-fixing ring.
The K-League will ask the Korea Football Association to block the banned players from taking up other football-related posts.
"We made the decision, determined that this would be the first and the last match-fixing scandal in the league," Kwak Young-Cheol, head of the K-League's disciplinary committee, told journalists.
"Players must keep in mind that they will be kicked out of the sport permanently if they get caught committing wrongdoing."
Mr Kwak also said the players' bans would be reviewed if they were cleared of wrongdoing in criminal proceedings.
The Daejeon Citizen team will lose 30% of its annual share from Sports Toto, the national sports lottery. The loss amounts to about 270m won for the team.
Professional teams regularly receive portions of the sales of the lottery.
Gwangju FC and Sangju Sangmu Phoenix, which each have one player banned, will each lose 10% of their lottery share.