Volcano ash cloud highlights Australian differences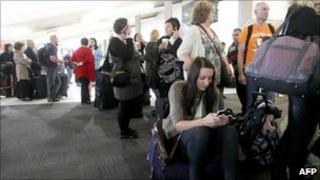 If nothing else, the past seven days have reminded us of the vastness and disparateness of the Great Southern Land.
On the travel front, that pesky cindery cloud blown in from Chile grounded planes first in Hobart and Melbourne, then in Adelaide and Perth. For stranded air travellers, it must have brought a new and frustrating meaning to the phrase "the tyranny of distance".
I'm tempted to say that the travel disruption came at the end of a national public holiday weekend, when all Australians were given a day off in celebration of the Queen's birthday - something which does not even happen in Britain, of course. But that would not be correct. Monday was a work day in Western Australia, which, tellingly, has a public holiday at this time of year to mark its Foundation Day - yet more evidence of its separatist tendencies.
On the sporting front, too, it was mate against mate and state against state time, as New South Wales took on Queensland in game two of the State of Origin.
For footy fans in these Rugby League-loving states, the origin series is probably the holiest event in the calendar - I was there at Olympic Park to sample the passion first hand. But I know that there will be readers of this blog in Victoria, South Australia, Western Australia and elsewhere for whom origin rugby means nothing.
Rather than tuning into Channel Nine for the footy, doubtless many viewers would have stuck with the plate versus plate alternative that the cooking reality show Masterchef serves up - revealingly, when a rival channel came up with a cooking show to cash in on the Masterchef phenomenon, its format was based on a state versus state competition.
Even cricket, one of the few truly national sports here, showed its regional colours this week after Cricket Australia axed the veteran opener Simon Katich. No less a figure than Stephen Smith, the country's defence minister, described it as conspiracy almost against Western Australia, which is where he and Simon Katich are from, even if the former test star now captains New South Wales.
Normally a man of such steady-state emotion, Stephen Smith was unusually passionate: "Historically, of course, there have been a series of atrocities committed by the Australian Cricket Board or Cricket Australia or the Australian selectors against Western Australian cricketers, but this one is extraordinary," he told ABC's Insiders programme. He seemed to be speaking more as a Western Australian than an Australian.
Sydney-centric
State rivalries also came to the fore this week in Perth when James O'Connor, one of rugby union's most promising stars, announced he was leaving the Western Force and heading for the Melbourne Rebels. Had he gone to France, I suspect many local fans would have taken the news of his departure better.
News-wise as well, this was a week when big stories in one part of the country had had little resonance elsewhere. The major story at the backend of the week in Melbourne was the resignation of the Victorian police chief Simon Overland. But it was of negligible interest elsewhere.
A running story this week in Sydney has been the future of the famous fishmarket, which again did not travel. The headlines in Alice Springs have concerned the allegations of brutality against a 16 month old boy by his mother.
One of the big major running stories of the month, the live cattle ban to Indonesia, has revealed the divide between city and country - although everyone has been in agreement about the grotesqueness of the footage in the Four Corners report.
As if to underscore the rift, this month has seen the formation of a new Australian Party by Bob Katter, a northern Queensland independent MP who is often ridiculed by city dwellers for his trademark ten gallon hat. Rather than being representative of Australia as whole, Mr Katter and his headgear remind us of the great urban/bush divide.
Economically, too, Australia is not so much a twin-speed economy right now, as a multi-speed economy. The growth forecast for the next twelve months in Western Australia is 4.6%, but a measly 0.1% in Tasmania; the Victoria economy is set to grow by 3.4%, while Queensland is sluggish at 1.1%. Doubtless we could go on, while it is also worth pointing out that this post could have been written virtually any week of the year.
This blog is often accused of being Sydney-centric in its outlook, and the criticism is absolutely justified. It is, no question - however much time we spend travelling around the country. But the media landscape as a whole is Balkanised, with largely city-centric newspapers and state-focused television nightly news.
As this week has reminded us, it is hard to have a genuinely national conversation in a country so vast and so fragmented.