Julia Gillard: Still finding her feet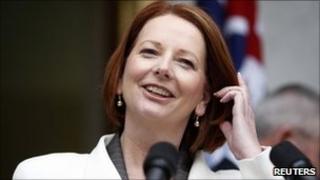 In her first speech as Prime Minister, Julia Gillard promised that her government would reward those who "set their alarms early". The polls suggest, however, that many Australians would simply prefer to turn the clocks back by 12 months when Kevin Rudd was still in charge.
I have never lived in a country where polls drive the news agenda to quite the same degree, and for me their prominence recalls what Walter Cronkite once said of Australia: that there were too many reporters but not enough news.
That said, the poll published in Fairfax newspapers over the weekend definitely merited a few headlines.
First off, it suggested that the Labor party's primary vote had shrunk to 27%, the lowest recorded in the 39-year history of Nielsen polls.
Still more startling, it revealed that 60% of respondents preferred Kevin Rudd as prime minister. This then was a very personal rejection of Julia Gillard's first year in charge.
Known more as a shrewd political manager rather than as an innovative policy-maker, Ms Gillard is herself a product of this polls-centric polity. Throughout her career the focus has generally been on counting numbers and lining up factional support rather than coming up with big ideas.
Born into a working-class, immigrant family, she speaks persuasively about the transformative power of education and personifies her own message. Otherwise, she has not done much to elucidate a personal credo.
Topping her minority government's agenda is the proposal for a carbon tax to cut emissions, which she herself ruled out during last year's election campaign but which has been pressed upon her by the Greens and independent MPs, whose votes keep her in power. (As deputy prime minister, she had also urged Kevin Rudd to shelve plans for an emissions trading scheme in the face of mounting public and business opposition).
Her government's other big ticket item, the roll-out of a state-of-the-art national broadband network, is a hold-over from Mr Rudd's abbreviated prime ministership. Again, it has the feel of being part of a borrowed agenda rather than being part of her own.
'Assassination Day'
The Welsh-born leader offered a neat summation of her political style with the first two words she uttered as prime minister on the floor of Australia's House of Representatives. "Game on," she said sotto voce, as the leader of the opposition held out a congratulatory hand after she had ousted Mr Rudd that morning.
Having plotted and calculated her political rise, she gives the impression of not knowing quite how to use the power she has accumulated along the way. In many ways, then, she represents both the triumph and limitations of political careerism.
A year after her rise, she is still struggling to find her prime ministerial voice. Much of this stems from the manner in which Kevin Rudd was deposed and her subsequent failure to win a mandate at last year's federal election.
Tellingly and sheepishly, Julia Gillard said she would not move into The Lodge, the prime ministerial residence, until Australian voters had essentially handed her the keys. But the problem is that they never did. It undercut her authority and hobbled her self-confident style. She has looked like a temporary tenant rather than feeling truly at home.
Early on, it did not help that her first policy pronouncements were to signal a retreat from Kevin Rudd's mining super profits tax, which made her look weak, and to ditch her predecessor's "Big Australia" policy, which went down well with the tabloids but seemed indicative of a lack of national ambition.
During her first overseas trip, she also revealed in an ABC television interview that she preferred to be a "stay at home" prime minister rather than stride the global stage. Again, her words seemed deliberately targeted for the tabloids and the marginal constituencies of the suburban fringes, but again made her sound timid and less consequential. Now it is tempting to view her preference for a smaller Australia as emblematic of her troubled leadership.
The irony is that Labor's perilous parliamentary position now works in her favour. She was the author of the deal with the independent and Green MPs which keeps her in power, and the arrangement would likely fall apart if she became the victim of a leadership coup. In any case, there is no obvious alternative.
Kevin Rudd, a foreign affairs minister who clearly believes he is punching below his weight, would dearly love to return, and seems to have been pursuing a media strategy aimed at destabilising his one-time deputy.
But the numbers that matter for Mr Rudd are to be found not in the polls but the party room at Parliament House. His Labor supporters could just about field a football team but not one playing with an oval-shaped ball. Out of a caucus of about 100 members, he is thought to have just 11 supporters.
Last week, there were reports of a furious row between the prime minister and the man she deposed. But Mr Rudd is in no position to mount a counter-coup as the anniversary of what he called "Assassination Day" approaches. He may be the country's most prolific frequent flyer, but Kevin Rudd cannot travel in time.
UPDATE: ABC has been inviting people to describe Julia Gillard in three words. The resulting word cloud reads like more of a storm cloud, as you can see here.
For lovers of abbreviated forms of communication - and I have recently become a convert - there is also a Twitter hashtag devoted to describing the Australian Prime Minister in three words. #gillardin3
Or have a go in the comments section below. Unless they are really long words, they should meet the 400 character limit.