Thailand: Yingluck Shinawatra faces many challenges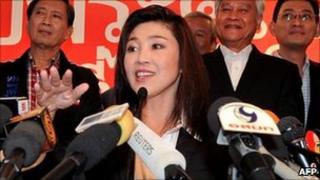 Yingluck Shinawatra is poised to become the first female prime minister of Thailand, and the fifth person to hold that office since her older brother, Thaksin, was deposed in a military coup in 2006.
Five premiers in as many years is a statistic that might give Ms Yingluck pause for thought.
Thailand has been beset by political division ever since Mr Thaksin was ousted.
His loyal supporters and bitter enemies have vied for power in parliament and on the streets.
Last year, red-shirted demonstrators, the majority of whom were Thaksin allies, laid siege to parts of the capital, Bangkok.
The army was eventually sent in to put down the increasingly confrontational protest, which ultimately left more than 90 people dead.
Both sides in this election campaigned on the need for unity after a period marked by bloodshed and bitter recrimination.
The outgoing Prime Minister, Abhisit Vejjajiva, focused the latter stages of his campaign on a warning - that a vote for Yingluck was effectively a vote for Thaksin, and that would pave the way for the exiled leader's pardon and eventual homecoming.
The negative tactics appear to have backfired.
Yingluck Shinawatra's challenges now lie in trying to reassure those who doubt her abilities and question whether she is more than a mere proxy for Mr Thaksin's political ambitions.
She campaigned on the family name and has promised to revive her brother's populist policies.
But she must now show that she is able to lead in her own right and step out of her brother's shadow.
Her party has floated the idea of an amnesty to promote reconciliation in the country. But critics fear the idea is a ruse to usher her brother back to power.
Both siblings deny that, but Mr Thaksin has made no secret of the fact that he would like to return to Thailand "when the time is right".
But Ms Yingluck will be acutely aware that she cannot afford to antagonise Mr Thaksin's powerful enemies.
The last pro-Thaksin government was brought down by a combination of street protest and court ruling.
Two previous incarnations of the party Ms Yingluck now leads have been dissolved after judges ruled them guilty of electoral fraud.
And then there's the military. The army chief, Prayuth Chan-ocha, says there will be no more coups.
The military, he says, will respect the will of the people and no longer interfere in the political process.
The trouble is they have said that before, but reneged when they felt it necessary.
This election was about putting the country's fate back in the hands of its people. But democracy in Thailand has too often been derailed.
The question then is whether this decisive victory for another member of the Shinawatra clan will mark a new start, a chance to leave the vitriol and violence behind.
Or could Thailand's fragile democracy be challenged once again?