Reflecting China's one-child generation
By Viv Marsh
BBC News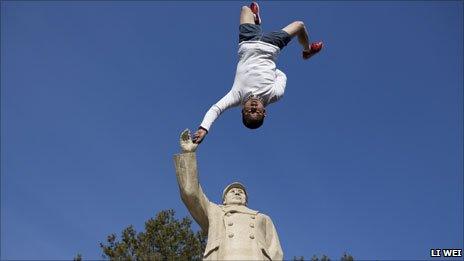 "We are the lost generation. I'm confused about the world," reads the placard held by Avril Liu, a student from China's southern region of Guangxi.
It is a fitting motif for an exhibition in London entitled Lost in Transformation. It brings together independent documentaries and photographs from China, giving Europeans a rare insight into the preoccupations of young Chinese in a rapidly changing society.
British photographer Adrian Fisk is prominent among the featured artists. He is displaying his project iSpeak China, which took him thousands of miles with his camera and sheets of white paper, encouraging young Chinese adults to write down whatever was on their minds.
Some wrote in English, some in Chinese, about love, migrant labour, the differences between east and west. Some, illiterate, were photographed holding a blank page.
"Huge cultural differences exist between the east and the west," wrote Li Qisheng, a teacher from Liaoning province. "Do not tell us what to do."
Jiajia, from Guangxi, wrote on her sheet: "Nowadays many young people do not care about the development of China and the world. They only care about themselves."
By exhibiting the project in London, Mr Fisk says he hopes to challenge Britons' perceptions of young people in China. The photos have already been viewed by millions of people on the internet - and Fisk says the Chinese themselves were surprised.
"There was suddenly a recognition that people in the next village, in the next town, in the next city were thinking similar to what the person who expressed himself was thinking," says Mr Fisk.
"A Chinese journalist wrote that when he first saw iSpeak, he was somewhat depressed because he suddenly realised that his views on life from within China were not unique, and that millions of other people were seeing it."
Other photos in the festival provide a more physical representation of the challenges posed by China's high-speed development.
In an image entitled Live At The High Place, the photographer and performance artist Li Wei stands at the base of an inverted human pyramid in front of the Sanlitun Village shopping centre in Beijing. On his shoulders are balanced four people; on theirs, six more. The human sculpture portrays the impact of China's one-child policy - as a generation of only children, now adults, contemplate looking after increasing numbers of older relatives alone.
Festival curator Zhan Xuhua says she does not want to give visitors a one-sided impression of the country she loves.
"I try to tell them that, yes, the picture is beautiful, but also there is shadow. Sun is shining, under the sun there is shadow. We need to see the shadow," she says.
"You go to Shanghai, such a modern city, such a wealthy city - but on the other hand in the countryside, you go to some of the villages, you can only see elderly and kids."
For this she blames the culture of migrant labour, where young adults leave their home villages in search of work in China's booming cities.
Migrant labour, education and money are the themes of one of the documentaries on show at the exhibition - Brave Father by Li Junhu.
It tells the story of an uneducated villager, Han Peiyin, who sells everything he has and works as a migrant labourer in the city of Xi'an so that he can afford to send his son Shengli to university. But the introverted Shengli realises that in China's competitive new order, hard work will not guarantee success. On graduation, he ends up earning less than his father.
The documentary was produced by CNEX, an organisation involving Chinese, Taiwanese and Hong Kong film professionals devoted to producing material free from state control.
The festival's co-curator Xie Jingjing says Brave Father illustrates what happens in China when education fails, and even a university education cannot help people to find a job.
"In China now, many high-school students choose not to take the university exam because it's not helping them," she says.
Lost In Transformation arrived in London shortly after the arrest, detention and conditional release of China's best-known contemporary artist and trenchant government critic Ai Weiwei - amid the biggest clampdown on dissent in China for years.
But Xie Jingjing does not think Chinese artists in general are inhibited by official limits on expression.
"I think it is quite the contrary. Because of such limits, you feel the urge to do something. It's precisely because you are pushed that you react," she says.
"I don't really see that burst of inspiration here [in Britain] for filmmakers and artists because perhaps people are just complacent. That's why I think Chinese filmmakers have been taking prizes all over the world - that's because of the need."
Lost In Transformation - Chinese Visual Festival 2011 - runs in London until 23 July.
Related Internet Links
The BBC is not responsible for the content of external sites.