Author Alan Shadrake released from Singapore jail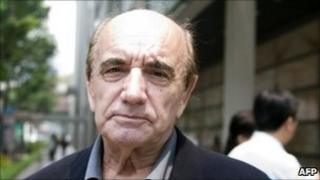 A British author has been freed from a Singapore prison after serving time for contempt of court over his book on the death penalty.
Alan Shadrake, 76, was seen being driven from Changi prison in a van belonging to the immigration authority.
His lawyer, M Ravi, told the BBC he was going to the airport where he would be deported to the UK.
Shadrake's book alleges a lack of impartiality in the implementation of Singapore's laws.
He was convicted of insulting the judiciary in Singapore, which has a history of sensitivity to how it is portrayed.
He went to jail on 1 June after losing an appeal against the six-week jail sentence.
He also had to serve an additional two weeks as he could not afford to pay the Sg$20,000 ($16,000; £10,000) fine.
However, Mr Ravi said his client had been released early for good behaviour.
Malaysia-based Shadrake was arrested last July when he visited Singapore to launch his book - Once A Jolly Hangman: Singapore Justice in the Dock.
The book contains interviews with human rights activists, lawyers and former police officers, as well as a profile of Darshan Singh, the former chief executioner at Singapore's Changi Prison.
It claims he executed around 1,000 men and women from 1959 until he retired in 2006.
Human Rights Watch said Shadrake's conviction was a "major setback for free expression in Singapore".