Phone hacking: Inquiry at Murdoch's Australia firm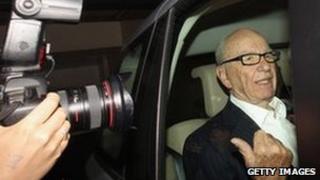 The Australian arm of Rupert Murdoch's media empire is to investigate all payments made to contributors since 2008, as the fallout from the UK phone-hacking scandal continues to widen.
News Limited boss John Hartigan said in an e-mail to staff it was "offensive" to link his firm to the UK scandal.
But he said any allegation of misconduct had to be investigated.
News Limited runs more than 20 papers and websites in Australia, including the Australian and the Herald Sun.
Mr Murdoch's UK operation News International was forced to close the News of the World tabloid after a string of damaging allegations.
The firm is now under pressure to .
Mr Hartigan said there was no reason to believe anyone at News Limited had done anything wrong.
"However, I believe it is essential that we can all have absolute confidence that ethical work practices are a fundamental requirement of employment at News Limited," he said.
"We will be conducting a thorough review of all editorial expenditure over the past three years to confirm that payments to contributors and other third parties were for legitimate services."