'Racy' police blog sparks Hong Kong inquiry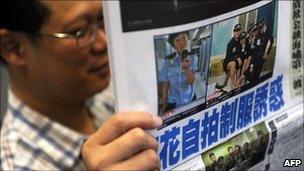 Hong Kong police have launched an internal inquiry after a female officer posted dozens of controversial images on her blog, media reports say.
The Ming Pao newspaper said the images included female officers pointing guns at each other, and another of officers in their underwear.
Some of the images were reportedly taken in a Kowloon police locker room.
A police spokesman said the force would take action if any officer was found to have breached disciplinary rules.
Local reports said the female officer had uploaded more than 100 photos since joining the force in 2007.
Her blog is called Diary of a Policewoman.
"No matter whether they are on or off duty, they should behave themselves because the public have high expectations of them," said Mr Tsang, who is the chairman of the Hong Kong Police Inspectors' Association.
"The force's management should also look into whether new guidelines or circulars should be issued to ensure no such incident happens again."
Reports said there had been similar cases in the past.
Last year, a local newspaper published a photograph of an officer posing with one of his relatives pointing a handgun at him.
And in 2009 two officers pictured each other in romantic poses while they were on bicycle patrol.