Thai-Cambodian troops 'must leave Preah Vihear temple'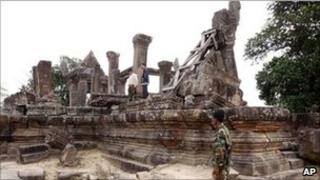 The UN's highest court has ordered Thailand and Cambodia to withdraw troops from a disputed border region near an ancient temple complex.
Cambodia had asked the International Court of Justice for a ruling after fighting broke out around the Preah Vihear temple earlier this year.
The temple is in Cambodia. Both nations claim some of the surrounding area.
The judgement is part of a long-running case in which the ICJ is attempting to clarify earlier border rulings.
The BBC's Rachel Harvey in Bangkok says Monday's ruling is just the first round in what promises to be a lengthy and complex judicial process.
Cambodia brought the case asking for a clarification on an ICJ decision from 1962 that awarded it the temple, but left other issues vague.
Thailand wants the case dropped, but has said it will respect the court's ruling.
The ICJ rejected Thailand's attempts to have the case thrown out.
The court said in a statement that "both parties should immediately withdraw all their military personnel present in the demilitarised zone and refrain from any military presence in that zone".
The court said both sides must allow access to observers from the regional bloc Asean.
Tension had been increasing between Cambodia and Thailand since Unesco awarded Preah Vihear World Heritage status in 2008.
Clashes broke out around the temple in February and 10 people were killed.
In April, another 18 people died in fighting along the border, around another set of temples to the west.