China executes corrupt Hangzhou and Suzhou officials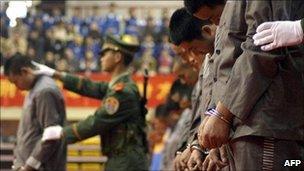 China has executed two officials from eastern cities after convicting them of corruption.
Xu Maiyong, a former vice-mayor of Hangzhou, and Jiang Renjie, who was vice-mayor of Suzhou, were put to death after their appeals were rejected.
Officials said Xu and Jiang took almost 300m yuan ($46m; £29m) by embezzling and taking bribes.
Corruption is one of the main causes of public discontent in China. Hundreds of officials are convicted every year.
But only a handful are executed, and it is extremely rare for two officials to be put to death on the same day.
Xu was said to be well known for his extravagant lifestyle - reports said investigators found gold bullion and expensive jewellery at his home.
State-run Xinhua news agency reported that he used his power to interfere with project contracts and to help companies and people obtain land, promotions and tax breaks.
The 52-year-old was sentenced to death in May for taking almost 200m yuan in bribes and embezzled funds.
Jiang, 62, was given the death penalty in 2008 for taking more than 100m yuan in bribes.
The two cases are not linked, but both men were earlier reported to be members of the Communist Party.
Earlier this year, President Hu Jintao focused on corruption during his main speech to celebrate 90 years since the party was founded.
He warned that corruption could cost the party the support of the people.
Several high-profile officials have been executed in recent years - including Shanghai's former party boss, and a former head of the country's main nuclear firm.