South China Sea row: Asean seeks islands deal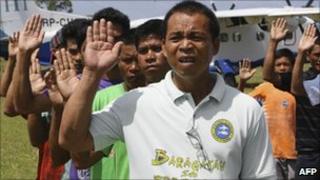 Asian officials have sought to play down an increasingly tense territorial dispute in the South China Sea.
Leaders of regional bloc Asean signed a deal with Chinese officials aimed at establishing guidelines for talks on the dispute.
But the agreement was short on detail, and did not mention the overlapping territorial claims.
The Philippines and Vietnam, both Asean members, have become embroiled in bad tempered exchanges with China recently.
On Wednesday a group of Philippine politicians visited an island in the disputed Spratly chain, sparking an angry statement of condemnation from China.
And crowds of Vietnamese have held rowdy anti-Beijing protests every weekend for the past two months.
But at the weekend, dozens of Vietnamese protesters were arrested and the rallies suppressed.
Analysts say the government had given its tacit approval to the protests, so the crackdown was probably designed to placate China before the Asean meeting.
China hailed the agreement on new guidelines, with Deputy Foreign Minister Liu Zhenmin telling reporters: "We are looking to the future. We want to be good friends, good partners and good neighbours with Asean countries."
Indonesia's Foreign Minister Marty Natalegawa also welcomed the guidelines, telling the BBC they were the result of more than five years of pushing and negotiating.
But Vietnam and the Philippines were less keen, suggesting that much more work was needed before a full deal could be reached with China.
China and Taiwan claim the whole of the South China Sea as their territory, including the Spratly and Paracel island groups.
Vietnam also claims both island groups, while the Philippines, Brunei and Malaysia also have overlapping claims in the area.
The region is thought to be rich in oil and gas, and also has vital shipping routes.