Australia signs deal to save Tasmania's native forests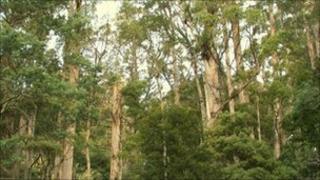 Australian Prime Minister Julia Gillard and Tasmanian Premier Lara Giddings have signed a deal to end decades of conflict in the island state's forests.
The A$276m (£173m) forestry deal reflects an in-principle agreement made last month between environmentalists and the forestry industry.
More than 400,000 hectares of prized native woodland will be protected.
The deal has been welcomed by some conservationists, though others say it does not go far enough.
Meanwhile, the Tasmanian Forest Industry Association - although at first supportive - says last-minute changes mean there are insufficient guarantees for timber companies.
Some employers in the woodchip processing industry have insisted that their workers have been "sold out".
Ancient forests
The Tasmanian wilderness has been a battleground between conservationists and logging companies for 30 years.
At issue has been the exploitation of native forests, which became one of Australia's most bitter environmental disputes.
It is estimated that tens of thousands of hectares have been cleared over the past 25 years with much exported as wood chips.
The first real signs of peace began to emerge last year because of financial problems in the timber industry, says the BBC's Phil Mercer in Sydney.
The high Australian dollar had made exports of wood chip to Japan increasingly expensive and the trade shrank rapidly, leading to mill closures and many businesses struggling and looking for help.
Ms Gillard said the deal would "help the forest industry adapt to market changes while protecting the communities and families that rely on the sector to survive".
Under the agreement, A$85m will go towards supporting contractors and their families affected by the downturn, and A$43m will be spent on protecting new areas of forest.
Funding will also go towards helping affected towns to diversify their economies in the long-term, and to managing new reserves.
"Significantly, the agreement guarantees protection for Tasmania's most iconic ancient forests," Ms Gillard said in a joint statement with Ms Giddings.
The new reserves include the Styx Valley, home to some of the world's tallest flowering plants.
Tasmania is home to some of the world's tallest trees, including the Centurion, a giant swamp gum or eucalyptus regnans, which is more than 100m (330ft) tall.