Burma calls for peace talks with armed rebel groups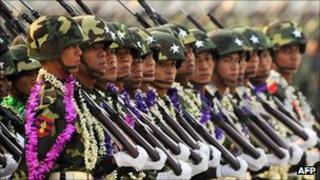 Burma's new government has called for peace talks with armed ethnic rebels groups along its borders with Thailand and China.
In a televised statement, it urged each rebel group to contact regional governments to start dialogue.
The government said it would be forming a body to deal with groups seeking peace talks.
The move is one of several recent signs that the nominally civilian government is trying to change its hardline image.
Several ethnic militias have battled the central government for decades to preserve de facto autonomy of groups like the Shan, Wa, Kachin, Karen and Mon.
Rare move
"Ethnic armed groups, which are willing to work for peace after resolving armed conflicts, are invited to contact respective state/division governments," said a statement attributed to cabinet secretary, Tin Myo Kyi.
Though some of the ethnic rebel groups have already had contact with the government, this rare public move comes three weeks after democracy leader Aung San Suu Kyi wrote an open letter to Burmese leader Thein Sein offering to mediate between them.
Ms Suu Kyi, released from a seven-year period of house arrest in November last year, advocates autonomy under a federal republic for at least three of Burma's ethnic groups.
The move comes days after state-run newspapers in Burma stopped their long-held practice of publishing daily criticisms of the BBC and other international broadcasters and ahead of a visit by a United Nations human rights envoy.
Tomas Ojea Quintana is expected to visit the country next week for talks with senior government figures and possibly Ms Suu Kyi.
Burma's army has, since June, been fighting both the Kachin Independence Army and the Shan State Army.
Both Shan and Kachin states border China, Burma's biggest economic ally.
Other clashes have also taken place along the eastern border with Thailand between government troops, ethnic Mon rebels and the Karen National Union.