New calligraphy classes for China's internet generation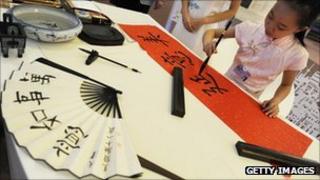 Schools in China have been told to run more classes in calligraphy because computer use and text-messaging are ruining children's writing style.
Younger students should have classes every week specifically in writing Chinese characters, the education ministry said.
Older students will be offered optional lessons and after-school activities.
The classes could start as early as this coming week, with the beginning of the new school year.
The rapid development and popularity of mobile phones and computers had weakened pupils' ability to write Chinese characters, a notice on the education ministry website said.
It said students should be trained in correct writing habits, including posture, and in how to use hard and soft brushes.
Energy and motion
Calligraphy comes from the Greek for "beautiful writing". In Chinese it is "shufa" - the law, or method, of writing. And as the name suggests, there is a lot to learn.
Twelve strokes of the pen or brush are needed to write the Chinese character meaning "thank you". That is just one character, one syllable in Chinese.
Every flick and swish and dot has a name: they must be written in the right order. At its most proficient, teachers say, Chinese calligraphy is a fusion of energy and motion, a simple brush loaded with black ink producing a work of art.
But technology is threatening centuries of instruction.
Writing using a computer gives the writer little time to dwell on the meaning contained in a character - and mistakes abound. But in China, as in many other countries, the language has evolved in the digital age.
Language from Mars
Internet-users often rewrite a standard Chinese phrase by peppering it with numbers, symbols and phonetic translations from English.
Sometimes they use words that sound the same but are written differently to mask what they mean.
Chinese web-speak is sometimes referred to as "huoxing wen", or the "language from Mars". It can be used to elude China's internet censors.
Younger users are simply thought to like keeping their parents in the dark.