Thai football club hopes for Fowler power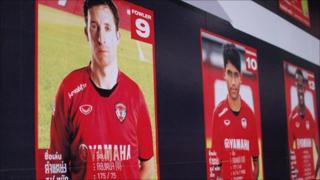 "Fowler to United." Even in a summer of intriguing transfers, this was one move which was bound to raise eyebrows.
But when the United in question turned out to be Muang Thong rather than Manchester, heads were scratched, brows furrowed and Wikipedia hurriedly consulted.
Robbie Fowler is one of the most prolific strikers of the past 20 years, standing at number four on the list of the English Premier League's all-time leading goal-scorers.
Almost 200 goals came over two spells at Liverpool - and there were dozens more for Leeds United and Manchester City.
But now, nearing the end of his playing career, his latest move finds him in Thailand's Premier League.
"I just love playing," says Fowler, 36, sitting barefoot in his yellow training kit at the back of the main stand of the Yamaha Stadium on the outskirts of Bangkok.
"I've always loved the game, regardless of where I've been. And it's the same here in Thailand - I thought: Why not give it a shot? The kids will enjoy it when they come over here, and I certainly will."
"I'm seeing new things in my life other than football, which I might never have seen."
Pulling power
Thailand is far from the most obvious destination for a striker still deified by Liverpool fans who, to this day, refer to him by the simple nickname "God".
Ambitious, developing leagues from the United States to the United Arab Emirates offer star names of a certain age lucrative contracts to add a little of their quality - and pulling power. Fowler himself played two seasons in Australia's A-League.
But Thailand has never been known for big-money deals nor, indeed, the quality of its football. The national side has never qualified for the World Cup, and slipped as low as 137th in FIFA's rankings as recently as 2006.
Meanwhile the domestic competitions and the clubs which compete in them have long suffered from widespread apathy because of Thai fans' enthusiasm for the English Premier League.
But things are changing in Thai football - and Muang Thong United are at the vanguard. They were languishing in the second division as recently as four years ago.
But following successive promotions, the club won Thailand's premier league in each of the past two seasons, regularly drawing crowds of more than 10,000.
Bringing in foreign expertise has been part of the game plan: First came coaching staff - including the current head coach Henrique Calisto, a Portuguese veteran poached from Vietnam's national side.
Players followed, including another with English Premier League experience - the former Fulham defender and Bradford City captain Zesh Rehman.
"The first thing that's evident is the passion for football - it's immense," says Rehman. "Once you come and see it for yourself, it opens your eyes."
"When you see people trying to develop their game and drag it up to the next level, and they want you to be a part of that, for me that's a privilege."
For the other English player on Muang Thong's books, Thailand presents an opportunity for a fresh start.
By his own admission, 21-year-old winger Romone Rose did not make the grade at Queens Park Rangers - but he thinks playing in Thailand will help to improve his prospects.
"Instead of dropping down the leagues in England you can come somewhere else," says Rose.
"The standard of football here is somewhere between the [English] Championship and Premiership - it's a lot better for me than playing in League One or League Two."
Cost covered
All of this is music to the ears of Muang Thong's genial general manager, Ronnarit Seu-vaja.
He says his club are on a mission to pull Thailand into the elite level of Asian football, alongside Japan and South Korea. And he believes that signing Robbie Fowler will help them on several levels.
Most obviously, there is box office appeal. With so many Liverpool fans in Thailand, covering the striker's financial demands was never likely to be an issue. "We sold 10,000 Robbie Fowler jerseys in the week after he signed," grins Mr Seu-vaja.
He hopes that having a senior professional on the books who has played at the highest levels in Europe will provide an inspiring - and educational - example to the young Thai players who make up the bulk of Muang Thong's squad.
But it seems that the former Liverpool favourite's contacts book was perhaps the greatest prize.
"We now have more connections with European football, particularly in England," he said.
"He has contacted many professionals who could come and work in Thailand - fitness coaches, physios or even players who didn't have knowledge of Thai football before. So we're going to gain a lot of returns from Robbie Fowler."
For Fowler himself, an adventure in Thailand is a chance to keep playing and - as he puts it - "to win something for once".
"I still want to score goals," he says. "It sounds stupid, but I still want to be the best - although I know that's never going to be the case now."
"But I still have ambitions - I still want to win things - and I'm certainly not coming over here just for a holiday, because I want to do well for myself as well."
With the Thai Premier League entering its final stretch, that is great news for Muang Thong United fans - but not so good for their opponents.