Nine North Korean refugees sail to Japan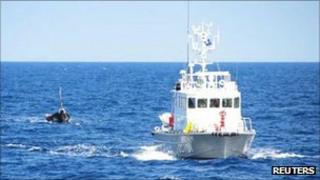 Japanese Coast Guards say they have found a boat carrying nine people, who say they are North Koreans, off the country's west coast.
Sailors found the wooden boat, carrying three men, three women and three boys, off the Noto Peninsula near Kanazawa.
The group told officials they wanted to go to South Korea. One man reportedly said he was a member of the military.
In recent years more and more North Koreans have been making their way to the South, but rarely via Japan.
Most cross the border into China before travelling on to South Korea, often via South East Asian nations.
Japanese officials said they were alerted to the boat - an 8m-long (26ft) wooden vessel - by fishermen.
The group, who appeared to be in good health, said that they had been sailing for five days.
"They said they left a port in North Korea last Thursday, hoping to reach South Korea," a Japan Coast Guard spokesman said.
One man told officials that he was in the North Korean military and the other eight people were his relatives, Kyodo news agency said.
Only two other groups of North Korean refugees have arrived in Japan in the past.
A family of four arrived in 2007, 20 years after 11 crew members of a North Korean ship sailed into a Japanese port. Both groups were transferred to South Korea.
More than 21,000 North Koreans have arrived in South Korea since the end of the 1950-53 Korean War, and in recent years the rate has been increasing because of food shortages and economic hardship.
Such incidents tend to anger the North Korean authorities, who demand their citizens back. China repatriates North Korean refugees, but South Korea accepts them and helps them start a new life.
Earlier this year, a tense row erupted between the two Koreas after four sailors whose fishing boat drifted into Southern waters opted not to return home.
Chief Cabinet Secretary Osamu Fujimura said Japan would "make an appropriate decision based on past examples" about what to do with the group.