Taiwan 'grounds F-5 fighter jets' after crash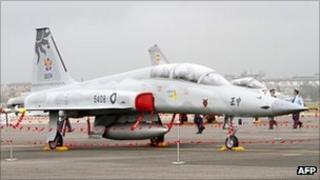 Taiwan's air force is reported to have grounded its ageing F-5 fighters after two of them crashed during a training flight on Tuesday.
The jets disappeared off radar shortly after taking off from an air base in Hualien, eastern Taiwan.
The remains of three pilots have been recovered from the mountain crash site.
The military said it was investigating the accident but one official said it underlined Taiwan's need to purchase a more modern air fleet.
The aircraft - one RF-5 surveillance plane and a two-seater F-5F trainer - took off at 19:39 (11:39 GMT) and disappeared from radar 13 minutes later, the defence ministry said.
"We were fishing at the seaside when suddenly airplanes flew over our heads, and a moment later we heard a loud bang and the whole mountain was set on fire," one witness told the Taipei Times. "The explosion was very loud."
Wreckage from the planes was later found in the mountains and on a highway.
US deal sought
Huang Jong-Chyi, of the air force's Maintenance Command, told Taiwan's CNA news agency that the F-5 fleet had been grounded pending the results of the investigation.
The F-5 fleet is more than 35 years old and Taiwan is currently seeking to buy new aircraft to upgrade its air force.
It wants the US to sell it 66 F-16 C/D fighter jets, but China - which says Taiwan is part of its territory - has warned Washington not to proceed with the deal.
The US is due to make a decision by October, but some media reports suggest it will reject Taiwan's request. Both sides say no decision has been made.
Defence ministry spokesman David Lo told AFP news agency he hoped the sale would go ahead as soon as possible.
"This type of jet has served the air force for more than 35 years. We really don't want our pilots to fly them risking their lives," he said.