Chinese premier Wen Jiabao calls for more democracy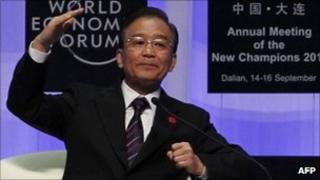 China's Premier Wen Jiabao says China must change its system of absolute power and introduce more democracy.
He made the comments at the World Economic Forum meeting of business leaders in the Chinese city of Dalian.
Mr Wen, who is due to retire in just over a year, has spoken several times in recent months about the need for reform.
But his comments are rarely reported in the state-controlled media so most Chinese are unaware of them.
Untrammelled power
For six decades the Communist Party has wielded untrammelled power in China.
Ensuring the party continues to rule unchallenged is the first priority of the government, the courts, the army and the media.
In the past year or so, Mr Wen, number three in the Communist hierarchy, has spoken several times, to carefully chosen audiences, about the need to reform China politically.
This call appears to go further.
He told business leaders that reforming the party and the country's leadership system were "urgent tasks".
Wen Jiabao said the most important task for a ruling party was to act in accordance with the constitution and the law.
"To do this the party must not represent the government, and change the phenomenon of absolute power and excessive concentration of power," he said.
"Thus, the party's and the country's leadership system must be reformed."
Mr Wen spoke about expanding forms of democracy beyond village committees.
"If people can rule a village well, they can manage a county well, even rule a town well," Mr Wen said.
However, he said it was more practical to expand democracy firstly within the Communist party.
Reform credentials
Mr Wen, who is due to retire in just over a year, is thought to be trying to burnish his credentials as a reformer before he steps down.
He may also be trying to nudge China's next generation of leaders towards change.
But he is thought to be out of step with his colleagues on the ruling politburo, and has little chance of bringing about reforms himself at this late stage.
In recent months, the party has feared the revolutions that have toppled dictators in North Africa could spread to China.
As a result, it has rounded up and silenced those, such as the artist, Ai Weiwei, who challenge its absolute power.