US confirms $5bn Taiwan F-16 fighter jet upgrade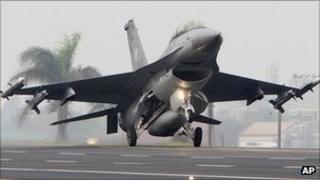 The US has confirmed plans to upgrade Taiwan's ageing fleet of F-16 US-built fighter planes.
China considers Taiwan part of its territory and has warned Washington not to proceed with the $5bn (£3bn) deal.
China's foreign ministry expressed his country's "strong indignation" over the move, saying it would damage ties.
But the US is legally bound to help Taiwan defend itself, and the move comes as China's military superiority over Taiwan has steadily increased.
China's Vice-Foreign Minister Zhang Zhijun called the decision "grave interference" in the country's internal affairs which sent a "gravely mistaken signal to pro-Taiwan independence separatist forces".
In a statement on the ministry's website, Mr Zhang said: "It must be pointed out that this wrongful course by the US side will unavoidably damage Sino-American relations and co-operation and exchanges in the military, security and other fields".
Combat capability
However, the announcement suggests the US will not now sell Taiwan a newer generation of F-16, as Taipei had hoped.
US officials said the F-16 A/B fighters will undergo a retrofit which will bring them up to the same standards as the more advanced C/D models.
"After the upgrade, the air force's combat capability will be advanced hugely," Taiwanese Defence Minister Kao Hua-chu said at a late-night press conference in Taipei.
The defence ministry said Taiwan remained under threat from China's military expansion.
"Improving our defence capability is a crucial and only measure to sustain regional security and stable development across the strait," it said in a statement.
But Taiwan also said it would continue its attempts to purchase more than 60 of the C/D planes, which are considered more of a match for China's latest war planes.
Taipei said that decision was still pending in the US and urged officials to agree to it.
Washington's decision will now pass to Congress for approval.
Some analysts say the move is designed to appease Beijing, which had warned that relations would suffer if the sale went ahead.