Indonesia profile - Timeline
A chronology of key events: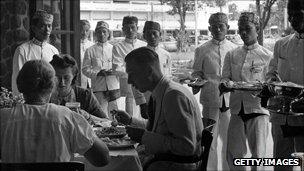 1670-1900 - Dutch colonists bring the whole of what is now Indonesia under one government as the Dutch East Indies.
1883 - Volcanic eruption of Krakatoa (Krakatau) island causes devastating tsunami.
1928 - A youth conference pledges to work for "one nation, one language, one people" for Indonesia.
1942 - Japan invades Dutch East Indies.
1945 - After Japanese surrender, nationalist leader Sukarno returns from internal exile and declares independence.
1949 - The Dutch recognise Indonesian independence after four years of guerrilla warfare.
1950s - Maluku (Moluccas) declares independence from Indonesia and fights an unsuccessful separatist war
1962 - Western New Guinea, or West Papua, held by the Netherlands, is placed under UN administration and subsequently occupied by Indonesian forces. Opposition to Indonesian rule erupts.
1965 - Failed coup: In the aftermath, hundreds of thousands of suspected Communists are killed in a purge of leftists which descends into vigilantism.
1966 - Sukarno hands over emergency powers to General Suharto, who becomes president in March 1967.
1969 - West Papua formally incorporated into Indonesia, becoming Irian Jaya Province.
1975 - Portugal grants East Timor independence. Indonesia invades the following year and annexes it as a province.
1997 - Asian economic crisis: Indonesian rupiah plummets in value. Protests and rioting topple Suharto the following yer.
1999 - Free elections are held in Indonesia.
East Timor votes for independence, pro-Indonesian militias go on the rampage. East Timor comes under UN administration. Abdurrahman Wahid (Gus Dur) becomes president.
2000 - Two financial scandals dog the Wahid administration: Buloggate (embezzled funds from the state logistics agency), and Bruneigate (missing humanitarian aid funds from the Sultan of Brunei).
2001 July - Parliament dismisses President Wahid over allegations of corruption and incompetence. Vice President Megawati Sukarnoputri is sworn in.
2002 January - Irian Jaya province granted greater autonomy by Jakarta, allowed to adopt name of Papua.
2002 October - Jihadist bomb attack on the Kuta Beach nightclub district on Bali kills 202 people, most of them tourists.
2004 October - Former general Susilo Bambang Yudhoyono wins second round of presidential elections, unseating Megawati Sukarnoputri.
2004 December - More than 220,000 people are dead or missing in Indonesia alone after a powerful undersea earthquake off Sumatra generates massive tidal waves. The waves devastate Indian Ocean communities as far afield as Thailand, India, Sri Lanka and Somalia.
2006 December - First direct elections held in Aceh province, consolidating the August 2005 peace accord. Former separatist rebel leader Irwandi Yusuf elected governor.
2009 September - Police shoot dead Indonesia's most-wanted Islamist militant Noordin Mohammad Top, thought to be responsible for a series of deadly attacks across the archipelago.
2011 February - Two churches are set alight in central Java during a protest by hundreds of Muslims about blasphemy.
Three members of the Ahmadiyah sect, a minority Muslim group, are bludgeoned to death in a mob attack in West Java.
2011 June - Radical cleric Abu Bakar Ba'asyir gets 15-year jail sentence for backing an Islamist militant training camp.
2012 June - Jakarta court sentences bomb maker Umar Patek to 20 years in prison for his role in the 2002 Bali attacks. He was extradited from Pakistan in 2011. The sentencing brings to an end the 10-year investigation into the bombings.
2014 July - Joko Widodo is declared the winner in the presidential election.
2017 May - Jakarta's Christian mayor Basuki Tjahaja Purnama is jailed for two years for blasphemy.
2017 June - Islamic State group has spread to almost every province of the country, according to military chief General Gatot Nurmantyo.
2018 May - Spate of bombings in the second city of Surabaya, carried out by families of suicide bombers, including their children.
2018 September - Major earthquake and tsunami kill more than 1,000 people on the island of Sulawesi, around the city of Palu.
2018 October - New Boeing 737 Max 8 plane operated by Indonesia's Lion Air crashes into the Java Sea, killing all 189 people on board. A similar crash in Ethiopia the following March leads to the grounding of the 737 Max 8 around the world pending investigations.
2019 April - Presidential and legislative elections held simultaneously for the first time. Over 192 million citizens register to vote for a president and legislators for 20,500 seats in the mammoth exercise.