Indonesia: Suspect arrested over Solo church bombing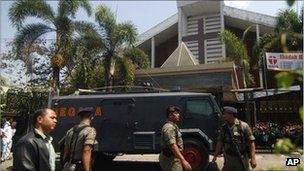 Indonesian police say they have arrested a terror suspect wanted in connection with at least two attacks.
Local police chief Lt Col Lufti Martadian said Beni Asri was captured near his parents' house in Solok, West Sumatra province, on Friday.
Beni Asri is suspected of helping to plot a suicide bomb attack on a church in the central Java town of Solo last Sunday that injured at least 20 people.
He is also wanted over a suicide attack on police in West Java last April.
That bombing, during Friday prayers at a mosque in a police compound in Cirebon, injured nearly 30 police officers.
Lt Col Lufti Martadian said Beni Asri was flown to Jakarta for questioning following his arrest, the Associated Press reports.
The 26-year-old was one of four people named by police this week as being wanted on suspicion of helping the suicide bomber attack worshippers as they left the Bethel Injil Sepuluh church in Keputon, Solo, after a service last Sunday.
Indonesian President Susilo Bambang Yudhoyono said, in the aftermath of the attack, that initial investigations indicated the bomber was a member of the same terror group which carried out a suicide attack at the mosque in Cirebon.
Beni Asri was one of five people already being sought by police in connection with the Cirebon attack.
Indonesia is the world's most populous Muslim country but is officially a secular state.
Militant Islamist groups have carried out a number of deadly attacks in Indonesia in recent years.