Chinese crew killed 'by drugs gang' on Mekong River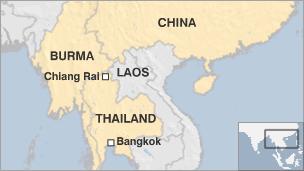 Eleven Chinese crew members have been killed after their two cargo ships were attacked by suspected drug smugglers on the Mekong River, says China.
The attack happened last Wednesday on the Thai-Burmese border, an area notorious for drug production, China said. Two sailors are also missing.
Armed men hijacked the ships to smuggle drugs into Thailand, reports say.
In response, China has suspended shipping on the Mekong and urged Thai authorities to catch those responsible.
It also urged the Thai and Burmese governments to do more to protect Chinese shipping in the area.
Chinese foreign ministry spokesman Liu Weimin said 11 Chinese sailors had been killed and two remained missing after the cargo ships Hua Ping and Yu Xing 8 were attacked on 5 October.
Earlier, the official Xinhua news agency had reported that all 13 Chinese crewmen were dead, citing Thai authorities.
China's consul-general in Chiang Mai, northern Thailand, has arrived at the site of the attack to investigate, Xinhua reported.
An owner of one of the ships was quoted by the China Daily newspaper as saying that almost every Chinese vessel in the area known as the Golden Triangle had been targeted in recent years, by gangs who usually robbed the crews.
The crew of a different boat who witnessed the attack said a gang of about eight men stormed the two ships, the China News Service reported.
The ships were recovered by Thai river police after a gunfight. Some 900,000 methamphetamine tablets worth more than $3m (£2m) were found, Thai media reports.
The Thai army suspects that ethnic Shan drug trafficker Nor Kham is behind the attacks, The Bangkok Post reports.
Some of those killed had been found in the river with their hands tied behind their backs, some were blindfolded with tape and some had been shot, the China Daily reported.
Related Internet Links
The BBC is not responsible for the content of external sites.