Burma law to allow labour unions and strikes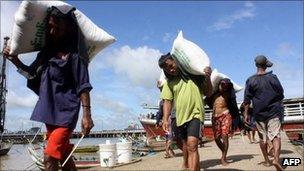 Workers in Burma will be allowed to form unions and go on strike under a new law signed this week by the president, officials say.
The law permits unions with a minimum of 30 members to be formed and allows strikes if a notice period is given.
Unions have not been allowed to operate in Burma since 1962.
The law appears to be the latest in a series of changes being introduced by Burma's new military-backed, civilian-led government.
Signed on Tuesday, it also sets out penalties for both employers and employees who do not abide by its terms.
"Clearly the introduction of legislation which legalises worker representation is an extremely positive step," the International Labour Organisation's representative in Burma, Steve Marshall, told the BBC.
Burmese authorities consulted with ILO specialists over the law, he said, and while he had not yet seen the final official text of the legislation, if unchanged from the draft the law would be "pretty sound".
Deputy Labour Minister Myint Thein told exile broadcaster Democratic Voice of Burma that the law was in Burma's interest because it would improve transparency and help increase foreign investment.
Nyan Win, a spokesman for pro-democracy leader Aung San Suu Kyi's National League for Democracy (NLD) party, told the BBC they were satisfied because labour rights had "improved from nothing to something".
Observers have cautioned, however, that it remains to be seen whether unions will really be able to operate in practice. Many labour activists remain in prison.
Burma held elections last year for the first time in two decades, replacing military rule with a military-backed civilian administration.
Western nations criticised the polls as neither free nor fair. But since then, the government has gradually begun to introduce changes, including opening dialogue with Aung San Suu Kyi, who has now been freed from house arrest.
Earlier this week the government freed about 200 political prisoners as part of a wider amnesty.
Rights groups say more must be freed, but other observers have called the move another positive sign.