China communists hold key annual meeting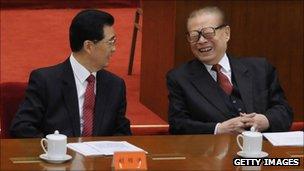 The Chinese Communist Party is holding its most important meeting of the year over the next four days.
The gathering of the party's central committee is the last big meeting before leadership changes next year.
President Hu Jintao will leave office after the 2012 party congress, while Prime Minister Wen Jiabao and his government will end their terms the following year.
But the party is giving few clues as to what will be discussed.
To judge from the media coverage, this meeting is nothing special - an article issued by Xinhua, China's state-run news agency, ran to just a few lines.
A gathering of the party's central committee will be convened in Beijing, it said. The meeting will last four days.
However, this is the Chinese Communist Party's most important annual event.
Several hundred senior party leaders from across the country get together.
Each year there is theme, and this time it is culture.
But no one doubts that more weighty matter will be discussed.
All China's top leaders will begin handing over power to the next generation from next year.
There'll be intense jockeying for positions behind the scenes.
There are also major issues to discuss: rebalancing the economy, China's position in the world, a growing internet community that is loosening the party's hold on social debate.
Little of this is being mentioned beforehand and there will not be much revealed afterwards either.