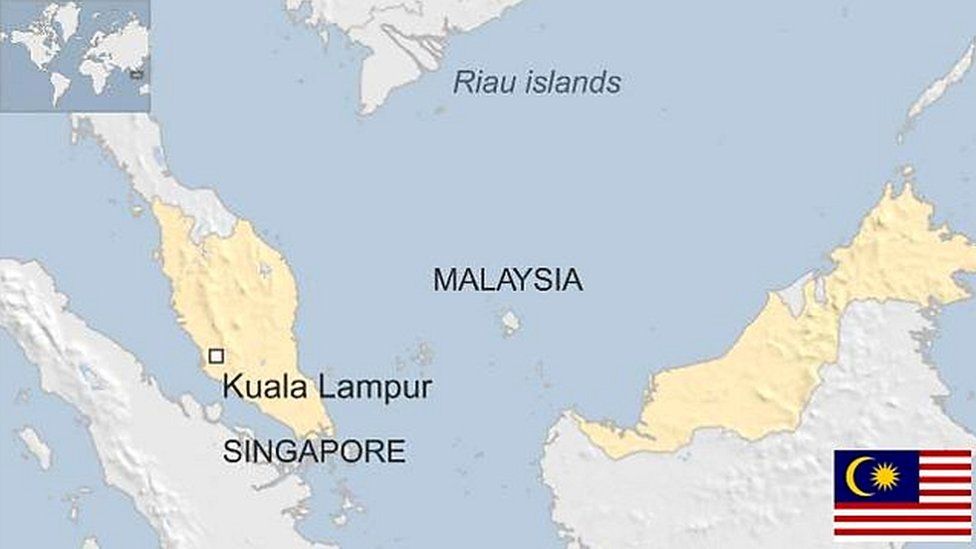 Malaysia boasts one of South East Asia's most vibrant economies, the fruit of decades of industrial growth and political stability.
Consisting of two regions separated by the South China Sea, Malaysia is a multi-ethnic, multi-religious federation of 13 states and three federal territories.
The country is benefiting from a growth in manufacturing, and is a major tourist destination, but there are fears that development could harm the environment, particularly the rainforests of northern Borneo, which are under pressure from palm oil plantations and illegal logging.
Capital: Kuala Lumpur (ceremonial, legislative) Putrajaya (adminstrative)
Area: 330,803 sq km
Population: 33.2 million
Languages: Malay, plus English
Life expectancy: 71 years (men) 76 years (women)
Sultan Abdullah of Pahang was elected paramount leader in January 2019, after the unprecedented abdication of his predecessor Sultan Muhammad V of Kelantan.
The post of paramount ruler is rotated every five years among the sultans of the nine Malay states.
Prime minister: Anwar Ibrahim
Anwar Ibrahim became prime minister in November 2022, after a rollercoaster political career that saw him move from student campaigner to deputy prime minister and then jail.
He become deputy to long-serving United Malays National Organisation Prime Minister Mahathir Mohamed in 1993, until they fell out five years later and Mr Ibrahim was imprisoned on trumped-up charges.
Freed in 2004 only to be jailed again later, Mr Ibrahim eventually formed an alliance with Mahathir Mohamed in the multi-ethnic Pakatan Harapan that brought him to power in 2022.
Media freedom improved after the change of government in 2018, say international watchdogs. Officials have considered repealing laws which were used to curb reporting.
The TV sector includes state and private networks and pay TV. The biggest media conglomerate operates several networks including TV3, the leading national station.
Some key dates in Malaysia's history:
14th Century - Conversion of Malays to Islam begins.
1511 - Portuguese take Malacca.
1641 - Dutch take Malacca.
1786 - British establish a presence in Malaya, when the Sultan of Kedah leases Penang Island to the British East India Company.
1819 - British occupy Singapore.
1824 - Malacca occupied by the British following the Anglo-Dutch Treaty, which divides the region into two spheres of influence; British north of the Strait of Malacca, and Dutch south of it.
1826 - British settlements of Malacca, Penang and Singapore unite; British begin to establish protectorates over the Malay sultanates of the peninsula.
1842 - Sarawak ceded by the Sultan of Brunei to James Brooke, whose successors rule as the White Rajahs over an independent kingdom until 1946, when it becomes a British crown colony.
1877/78 - Sabah comes under British control.
1895 - Four Malay states combine to form the Federated Malay States.
1941 - Japan launches surprise attack on the US fleet at Pearl Harbor. Japanese air force sinks the British warships HMS Prince of Wales and HMS Repulse which have been sent to defend Malaya and Singapore. The Japanese army invades Malaya decisively defeat numerically superior British, Indian, Australian and Malayan defenders.
1942 - Japanese capture Singapore. 85,000 British and allied troops surrender, in the largest British surrender in history.
1948 - British-ruled Malayan territories unified under Federation of Malaya.
1948-60 - Malayan Emergency; a a guerrilla insurgency by the ethnically Chinese-led Malayan Communist Party to force the British out of Malaya.
1957 - Federation of Malaya becomes independent.
1961 - Malaya's prime minister, Tunku Abdul Rahman calls for a new Federation called Malaysia, uniting Malaya, Singapore, Brunei, North Borneo, and Sarawak. The UK supports this believing the merger would prevent Singapore from becoming a haven for communism.
1963-66 - The Indonesia-Malaysia confrontation or Konfrontasi; an armed conflict between UK and Commonwealth forces against Indonesian troops - mainly in Borneo - stemming from Indonesia's opposition to the creation of the Federation of Malaysia. After Indonesian president Sukarno loses power in 1966, the dispute is resolved.
1965 - Singapore withdraws from Malaysia.
1969 - 13 May race riots. Around 170 people are killed in Chinese-Malay communal violence.
1971 - Government brings in the New Economic Policy, aimed at increase the share of the economy held by native Malays.
1980s onwards - Rapid economic growth and urbanisation, which shifts the economy from being agriculturally-based to one based on manufacturing and industry sees numerous building projects completed, such as the Petronas Towers and the North-South Expressway.
2003 - Prime Minister Mahathir Mohamad steps down after 22 years in office, only to return briefly in 2018-2020.
2022 - Anwar Ibrahim wins election as head of multi-ethnic coalition.
Related Internet Links
The BBC is not responsible for the content of external sites.