New Zealand country profile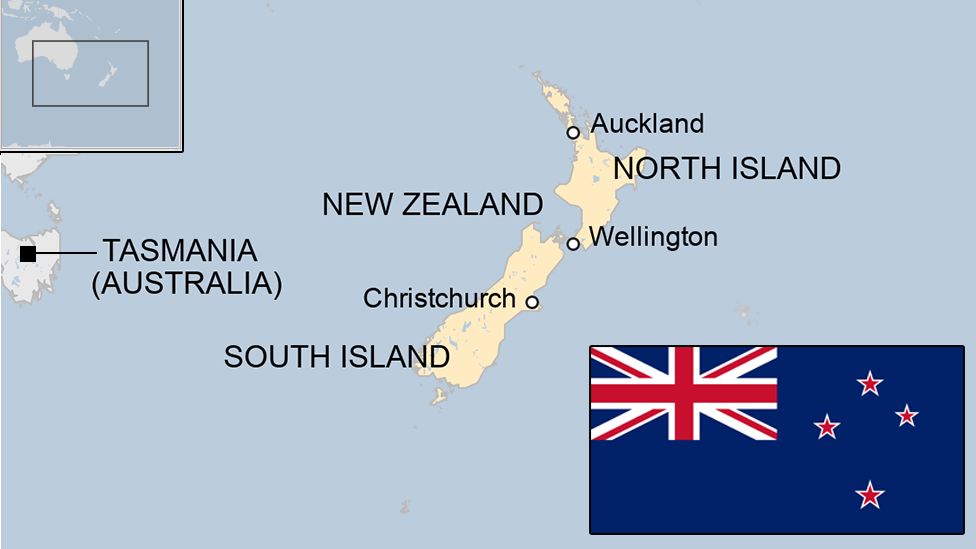 New Zealand is a wealthy Pacific nation dominated by two cultural groups - New Zealanders of European descent, and the Maori, who are descendants of Polynesian settlers.
It is made up of two main islands and numerous smaller ones. Around three-quarters of the population lives on the North Island, which is also home to the capital, Wellington.
Agriculture is the economic mainstay, but manufacturing and tourism are important. Visitors are drawn to the glacier-carved mountains, lakes, beaches and thermal springs. Because of the islands' geographical isolation, much of the flora and fauna is unique to the country.
New Zealand plays an active role in Pacific affairs, and has special constitutional ties with the Pacific territories of Niue, the Cook Islands and Tokelau.
NEW ZEALAND/AOTEAROA: FACTS
Capital: Wellington
Area: 268,021 sq km
Population: 5.1 million
Languages: English, Maori
Life expectancy: 80 years (men) 83 years (women)
Head of state: Charles III, represented by a governor-general
Prime minister: Chris Hipkins
Chris Hipkins became prime minister in January 2023 following the unexpected resignation of his Labour Party predecessor Jacinda Ardern, who had won second term in October 2020 - Ardern had said she no longer had "enough in the tank" to lead the country.
Jacinda Arden had won praise at home and abroad for her handling of two major crises - the 2019 Christchurch mosque shooting, and the 2020 Covid-19 pandemic.
Mr Hipkins now faces the uphill task of retaining power in the upcoming general elections in October. Opinion polls have suggested that his party is trailing its conservative opposition, the National Party, in popularity.
The country was among the first to close borders, this won plaudits for keeping New Zealand virus-free early in the pandemic, but frustration set in later when people tired of the zero-tolerance strategy, which saw nationwide lockdowns over a single infection.
Broadcasters enjoy one of the world's most liberal media arenas.
The broadcasting sector was deregulated in 1988, when the government allowed competition to the state-owned Television New Zealand (TVNZ). Privately-owned TV3 is TVNZ's main competitor.
Satellite platform SKY TV is the leading pay TV provider. Freeview carries free-to-air digital terrestrial and satellite TV.
The New Zealand Herald newspaper has the biggest circulation.
Some key dates in New Zealand's history.
c. 1200-1300 AD - Ancestors of the Maori arrive by canoe from other parts of Polynesia. Their name for the country is Aotearoa (land of the long white cloud).
1642 - Dutch explorer Abel Tasman sights the south island and charts some of the country's west coast. It subsequently appears on Dutch maps as Nieuw Zeeland, named after the Dutch province of Zeeland.
1769 - British captain James Cook explores coastline, also in 1773 and 1777.
1840 - Treaty of Waitangi between British and several Maori tribes pledges protection of Maori land and establishes British law in New Zealand.
1845-72 - The New Zealand Wars, also referred to as the Land Wars. Maori put up resistance to British colonial rule.
1893 - New Zealand becomes world's first country to give women the vote.
1907 - New Zealand becomes dominion within British Empire.
1914-18 - New Zealand commits thousands of troops to the British war effort during World War One. They suffer heavy casualties in the Gallipoli campaign in Turkey in 1915.
1939-45 - Troops from New Zealand see action in Europe, North Africa and the Pacific during World War Two.
1947 - New Zealand gains full independence from Britain.
1951 - Anzus Pacific security treaty signed between New Zealand, Australia and USA.
1985 - New Zealand refuses to allow US nuclear-powered or nuclear-armed ships to enter its ports. French secret service agents blow up Greenpeace ship Rainbow Warrior in Auckland Harbour. One person killed.
2011 - Scores of people are killed in a major earthquake in Christchurch, New Zealand's second-largest city, on South Island.
2017 - A New Zealand-US firm, Rocket Lab, launches its first rocket into space, ushering New Zealand into the select group of countries which have carried out a space launch.
2019 - Fifty people are killed when a far-right gunman attacks worshippers in two mosques in Christchurch. Government tightens gun laws.
2020 - Jacinda Ardern wins landslide victory for Labour in parliamentary elections, in part over her handling of the Covid-19 pandemic.
Related Internet Links
The BBC is not responsible for the content of external sites.