Taiwan's Ma: No China peace talks without referendum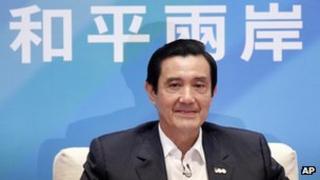 Taiwan's President Ma Ying-jeou has said that he will not engage in peace talks with China unless voters give their approval in a referendum.
Mr Ma made the comments after being criticised for proposing earlier this week that the two former enemies try to reach a peace deal in 10 years.
Taiwan and China stopped fighting in the 1960s, but never signed a formal peace treaty.
Ties have improved to their best level in decades since Mr Ma was elected.
But so far, the two sides have discussed mostly trade and economic co-operation, not politics.
Permanent peace
On Monday, Mr Ma surprised many by suggesting a peace deal should be signed within 10 years.
It was the first time a timetable had been given.
Mr Ma's remarks raised fears in Taiwan that he may be trying to lead the island toward eventual unification with China.
Beijing still considers Taiwan to be one of its provinces, and has not renounced the use of force to bring it back under Chinese rule.
But analysts close to the president say he wants to use the current good relations to build a permanent peace between the two sides.
He recognises, they say, that China will only become more powerful in coming years.
Taiwan may come under increasing pressure from Beijing to reunify, and may not get the international backing it wants to resist such pressures, they say.
So the best hope is to reach some sort of agreement where Beijing agrees to not attack the island, they say.
As for referendums, China does not like them. They put future relations in the hands of voters.
But Mr Ma is running for re-election in January and is under pressure to raise his popularity.
He had to reassure the people their opinion counts. Beijing is getting another reminder that Taiwan is, after all, a democracy.