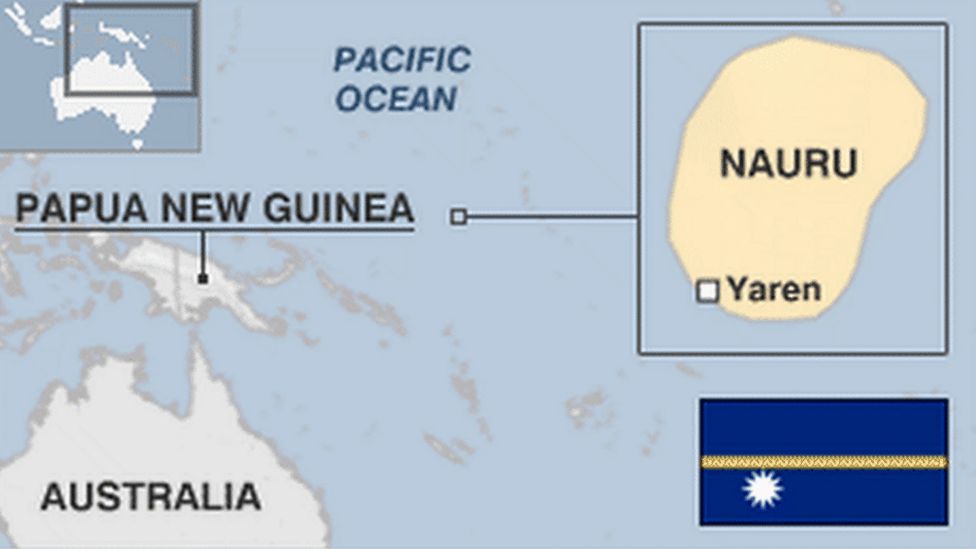 Named Pleasant Island by its first European visitors, Nauru in the central Pacific is the world's smallest republic.
In the 21st Century it has been a key part of Australia's controversial offshore detention centre policy. There have been questions surrounding the Australian-run asylum-seeker detention camp, with allegations of human rights abuses and overcrowding.
Nauru is about 3,000km north-east of Australia. The island's main phosphate mines closed in the 1980s, though phosphate mining and exports resumed in 2005.
The government estimates that secondary deposits have a remaining life of about 30 years, but the island's landscape has been devastated by over a century of phosphate strip mining.
Nauru has become heavily dependent on aid.
Capital: Yaren (de facto)
Area: 21 sq km
Population: 10,800
Languages: Nauruan, English
Life expectancy: 64 years (men) 67 years (women)
Russ Kun was sworn in as president by parliament in September 2022, after general elections. He also serves as foreign and justice minister. He has been a member of parliament since 2013, and previously served as minister of finance, ports, and tourism.
People in Nauru generally enjoy political rights and civil liberties, though the government has taken steps to sideline its political opponents, says the NGO Freedom House.
Freedom of expression is constitutionally guaranteed but not always respected. Foreign journalists have had a hard time operating in Nauru, as the government brought in restrictions, including a several-thousand dollar visa application fee, that seem aimed at deterring coverage of the conditions for asylum seekers and refugees.
Nauru has no daily newspaper.
State-owned Radio Nauru (88.8 FM) carries programming from Radio Australia and the BBC, and Nauru TV carries programmes from Australia and New Zealand as well as local output.
Affordable public internet access is available. There were 10,200 internet users by July 2022, comprising 93% of the population (Internetworldstats.com).
Bulletin - weekly
Central Star News - fortnightly
The Nauru Chronicle
Nauru Television (NTV) - government-owned
Radio Nauru - non-commercial, run by government-owned Nauru Broadcasting Service
Some key dates in the history of Nauru:
1798 - British navigator Captain John Fearn, sailing past Nauru from New Zealand to the China Seas, names it Pleasant Island.
1878-88 - Nauruan Civil War: between forces loyal to incumbent King Aweida of Nauru and those seeking to depose him in favour of a rival claimant. The war was preceded by the introduction of firearms to the island. One-third of the island's 1,400 inhabitants are estimated to have died in the war.
1888 - Nauru is annexed by Germany as part of the Marshall Islands Protectorate. Germany stops the civil war, restores Aweida to the throne and confiscates combatants' firearms;
1900 - British company discovers phosphate on the island.
1906 - Phosphate mining begins. Britain divides profits with German firm.
1914 - Nauru is seized by Australian troop on the outbreak of World War One, as the Allies occupy all Germany's Pacific territories.
1919 - League of Nations grants joint mandate over Nauru to Australia, Great Britain and New Zealand.
1942-45 - Nauru occupied by the Japanese. Some 1,200 Nauruans - two-thirds of the population - are deported to Japan's key naval base in the Caroline islands to work as forced labourers, where 500 of them die from starvation or bombing.
1947 - Nauru made UN trust territory under Australian administration.
1966 - Nauru Legislative Council elected.
1967 - Nauruans gain control of phosphate mining.
1989 - Nauru sues Australia in the International Court of Justice for additional phosphate royalties dating back to trusteeship period, and compensation for mining damage.
1993 - Australia agrees to pay out-of-court settlement of $73m over 20 years. New Zealand and the UK agree to pay a one-time settlement of $8.2m each.
1999 - Nauru joins the United Nations.
2001 - Australia pays Nauru to hold asylum seekers picked up trying to enter Australia illegally.
2003 - Nauru agrees to US demands to wind up its offshore banking industry amid money-laundering allegations.
2004 - Country defaults on loan payments, its assets are placed in receivership in Australia, which sends officials to take charge of Nauru's state finances.
2005 - Financial Action Task Force, set up to fight money laundering, removes Nauru from its list of uncooperative countries.
2008 - Australia ends its policy of sending asylum seekers into detention on small Pacific islands, with the last refugees leaving Nauru.
2012 - Australia opens a new detention camp for asylum-seekers on Nauru under its new offshore immigration policy.
2013 - Police and security guards restore order after a full-scale riot breaks out at an Australian-run immigration detention camp on the island.
2016 - A senior UN official who visits Nauru describes Australia's treatment of asylum seekers in offshore detention centres as inhuman and degrading.
2023 - Australia evacuates its last refugee held on Nauru, marking the end of offshore processing on the Pacific island. However Canberra says it remains committed to offshore processing as a policy.
Related Internet Links
The BBC is not responsible for the content of external sites.