US-South Korea security pledge as Panetta visits Seoul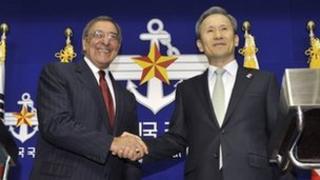 The US and South Korea say they will deepen military co-operation to counter attacks by North Korea, after two deadly incidents last year.
The move came as US Defence Secretary Leon Panetta met his South Korean counterpart in Seoul.
Mr Panetta said North Korea remained a "serious threat" against which Seoul and Washington would ensure a "strong and effective alliance".
Last week US diplomats held talks in Geneva with North Korean officials.
The meeting - aimed at persuading North Korea to return to international talks on ending its nuclear ambitions - was said to have been "constructive".
But US negotiator Stephen Bosworth said more time and more talks were needed to narrow differences.
'Strike back'
Speaking in Seoul, the US and South Korean defence chiefs said they would establish a joint operational plan for responding to acts of aggression by North Korea.
"It will display our strong willingness to strike back if North Korea carries out provocations and to stage effective joint response not only in the case of an all-out war but of provocations," said South Korea's Kim Kwan-jin.
Last year South Korea blamed Pyongyang for sinking one of its warships near their disputed border. Forty-six sailors were killed in the incident, for which North Korea has denied responsibility.
Four more South Koreans were killed when North Korea shelled a border island in November 2010.
Mr Panetta said the US and South Korea could provide "strong and effective responses to those kinds of provocations if we work together and develop the kind of co-ordinated response that we think is necessary".
The US stations some 28,500 troops in South Korea, and Mr Panetta said these would not be reduced despite defence cutbacks.
On Thursday the US Defence Secretary said it was not yet clear what direct talks between the US and North Korea would achieve.
"We're not sure where those talks are headed at this point... For that reason, I guess the word 'scepticism' would be in order," he said.
North Korea agreed in 2005 to give up its nuclear ambitions in return for economic and political concessions.
But talks on implementing the deal - involving the two Koreas, the US, Russia, China and Japan - broke down in 2009, shortly before Pyongyang conducted its second nuclear test.
Some efforts to restart them appear to be underway but both South Korea and the US say they want to see proof that North Korea is genuinely committed to the talks before re-engaging.