Micronesia country profile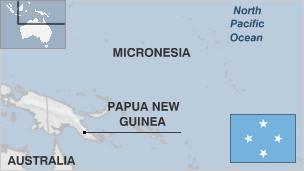 The Federated States of Micronesia (FSM) in the western Pacific, consists of some 600 islands grouped into four states: Kosrae, Pohnpei, Chuuk (Truk) and Yap.
Occupying a very small total land mass, it is scattered over an ocean expanse five times the size of France.
The FSM was formerly a part of the Trust Territory of the Pacific Islands, a UN trust territory administered by the US, but it a sovereign state after independence in 1986 when it signed a Compact of Free Association with the US.
Under this compact, Washington took on responsibility for defence and gained the right to set up military bases and deny other nations access to Micronesia.
In return, Micronesia received financial assistance averaging $100m per year, and the right of Micronesians to live and work in the US.
A renegotiated 20-year compact, worth $3.5bn to Micronesia and the Marshall Islands, was signed by US President George W Bush in 2003.
Micronesia's biggest challenge is to find a way of lessening its dependence on foreign aid, with tourism seen as one possibility.
FEDERATED STATES OF MICRONESIA: FACTS
Capital: Palikir
Area: 702 sq km
Population: 115,000
Languages: English, Chuukese, Kosraean, Pohnpeian, Yapese
Life expectancy: 67 years (men) 75 years (women)
Wesley Simina was elected president in May 2023. The president is elected every four years by Congress.
Micronesia has no daily newspaper, but the federal government publishes a fortnightly information bulletin and each of the constituent state governments produces its own newsletter.
The constitution provides for freedom of expression. The state governments and a religious organisation operate radio stations, and cable TV is available on Pohnpei and Chuuk.
There are no official restrictions on internet access, however cost and a lack of infrastructure limit availability on outlying islands. There were 56,000 internet users by July 2022, comprising 48% of the population (Worldinternetstats.com).
The National Union - fortnightly bulletin published by federal government
The Kaselehlie Press - fortnightly
KPON TV - Pohnpei, commercial
TTTK TV - Chuuk, commercial
WAAB TV - Yap, government
Some key dates in Micronesia's history:
c. 2000BC - The islands are first settled
500-1500AD - Centralised political system flourishes on Pohnpei, centred on its lagoon capital, Nan Madol.
c.1500 - Portuguese and Spanish explorers reach the area. Islands become part of the Spanish East Indies, centred on Manila.
Mid-19th Century - Missionary activities and coconut trade begin.
1870s - Germany begins extending its sphere of influence in the Caroline Islands (the island group is now divided between FSM and Palau).
1885 - Carolines Question: Pope Leo XIII is asked to adjudicate if Germany or Spain has authority over the islands. The Pope confirms Spanish authority, but gives Germany free access.
1899 - German-Spanish Treaty: following defeat in the Spanish-American War Spain sells the islands to Germany. Germany incorporates them into German New Guinea.
1914-18 - World War One. Japan occupies the islands
1939-45 - During World War Two, Truk Lagoon (now Chuuk) becomes a key Japanese naval base, and a significant portion of the Japanese fleet was is based there. In February 1944, US forces launch a major attack, in which many Japanese ships are sunk and aircraft destroyed.
1947 - Micronesia comes under US administration, in the form of the Trust Territory of the Pacific Islands, which was under United Nations authority.
1970s - Northern Marianas, Marshall Islands and Palau respectively demand separate status from the islands of Kosrae, Pohnpei, Chuuk and Yap.
1979 - Kosrae, Pohnpei, Chuuk and Yap ratify constitution setting up the Federated States of Micronesia.
1986 - Micronesia signs a Compact of Free Association with the US, under which Washington provides substantial economic assistance in return for taking charge of Micronesia's defence affairs, including the right to establish military bases.
2003 - Renegotiated 20-year compact with US is signed.
Related Internet Links
The BBC is not responsible for the content of external sites.