China and neighbouring states to patrol Mekong River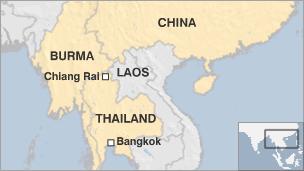 China is to launch joint patrols of the Mekong River with Thailand, Laos and Burma, according to China's state news agency Xinhua.
The patrols follow an attack last month on two cargo ships near the Thai-Burma border during which 13 Chinese crew members were killed.
The first joint patrol is due to be carried out before 15 December.
The patrols will be headquartered in China with stations in each of the other countries, according to Xinhua.
The plan will involve police departments in the four countries setting up a coordination team to explore further security measures.
China will also help train and equip police in Laos and Burma for the patrols.
A meeting in Beijing of ministers from all four countries reportedly agreed on the new measures.
After the October attack, China suspended shipping on the Mekong and sent patrol boats down the river to escort 164 stranded Chinese sailors and 28 cargo ships back home.
Drug smugglers were initially suspected of the attack, but nine Thai soldiers were subsequently detained.
After the attack, China urged the Thai and Burmese governments to do more to protect Chinese shipping on the river and it has since taken the lead in attempting to increase security in the area.
The area of the river where the incident took place, the "Golden Triangle", is notorious for drug production and smuggling.
Related Internet Links
The BBC is not responsible for the content of external sites.