A chronology of key events: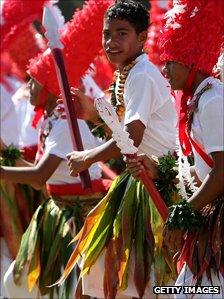 1616 - Dutch explorers are the first Europeans to visit Tonga.
1773-77 - British explorer Captain James Cook visits Tonga three times.
1820s - Wesleyan Methodist missionaries arrive from England.
1830s - Wesleyan missionaries convert paramount chief Taufa'ahau Tupou who in turn converts fellow islanders.
1875 - Taufa'ahau Tupou assumes the name of George Tupou I and establishes Tongan monarchy.
1900 - Tonga becomes a British protected state but is not formally colonised.
1918-65 - Reign of Queen Salote Tupou III.
1953 - Queen Saltote visits Britain for the coronation of Elizabeth II as Queen.
1958 - Tonga acquires greater autonomy from Britain.
1965 - Taufa'ahau Tupou becomes king following his mother's death.
1970 - Tonga ceases to be a British protectorate and becomes fully independent within the British Commonwealth.
1988 - Tonga signs agreement allowing US nuclear warships to pass through its waters.
1992 - Pro-Democracy Movement founded. Tongan schoolchildren perform the Kailao dance
1994 - Tonga's first political party, the Tonga Democratic Party - subsequently renamed the People's Party - founded by Pro-Democracy Movement.
1999 - Pro-democracy movement organises convention to discuss new, more democratic constitution.
2000 January - King's youngest son, Prince 'Ulukalala Lavaka Ata, appointed prime minister.
2001 October - Financial scandal rocks the islands after $26 million of state money is lost in investments made by the king's official court jester, a US businessman.
2003 October - Changes to the constitution are made, giving greater powers to the king and increasing state control of the media.
2004 February - Former court jester agrees to pay $1m to settle legal dispute with Tonga.
2004 May - National airline, Royal Tongan Airlines, closes after running out of cash for repairs.
2005 March - Elected MPs enter the cabinet for the first time. Cabinet members had previously been picked by the royal family.
2005 July-August - Prolonged strike by public sector workers is accompanied by violence in the capital.
2005 September - Thousands of people march through the capital, demanding democratic reform.
2005 December - World Trade Organisation (WTO) agrees to admit Tonga as its 150th member. Negotiations had been ongoing for a decade.
2006 March - Feleti Sevele becomes PM - the first elected commoner to do so - following the resignation of Prince 'Ulukalala Lavaka Ata.
2006 July - Two Tongan royals - Prince Tu'ipelehake and his wife Princess Kaimana - are killed in a car crash in the US.
2006 September - King Taufa'ahau Tupou IV dies after a long illness. He is succeeded by his eldest son Crown Prince Tupouto'a.
2006 November - Rioting erupts in the capital Nuku'alofa, apparently in protest at the lack of democratic reforms. Eight people are killed and much of the business district is destroyed. State of emergency is declared.
2007 February - State of emergency is extended; reconstruction of business district is being planned with the help of foreign aid.
2007 July - Tonga becomes the 151st member of the World Trade Organization (WTO), 12 years after applying to join.
2008 April - In last elections held under the old constitution, pro-democracy candidates win all nine of the elected seats in the nation's parliament.
2008 July - King Tupou V says he will relinquish the near-absolute power held by the monarchy, fulfilling a longstanding pledge to introduce democratic reforms.
2008 August - King Tupou V is officially crowned in a lavish ceremony.
2009 August - The Princess Ashika ferry sinks off Tonga, leaving 74 dead.
2009 September - At least nine Tongans die in a tsunami after an earthquake centred between the north Tongan island of Niuatoputapu and Samoa.
2009 November - A committee on constitutional reform recommends introducing a popularly elected parliament and reducing the monarchy to a largely ceremonial role.
2010 November - First vote for a popularly elected parliament.
2012 March - King Tupou V dies. He is succeeded by his younger brother, the former prime minister and serving High Commissioner to Australia, Prince 'Ulukalala Lavaka Ata. He takes the title King George Tupou VI.
2015 January - Longstanding democracy activist 'Akalisi Pohiva becomes Tonga's first non-noble prime minister after elections in November.
2017 August - King Tupou dissolves parliament and dismisses the prime minister, accusing the government of having tried to remove some of his powers.