Xinjiang territory profile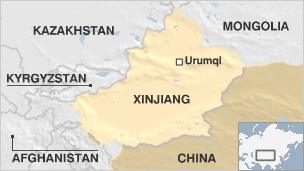 Xinjiang, the largest region of China, is bordered by eight countries including the former Soviet Central Asian republics, Mongolia, Afghanistan, Pakistan and India.
It experienced a brief period of independence in the 1940s, but China regained control after the Communists took power in 1949. Its full name is the Xinjiang Uighur Autonomous Region.
It is home to the Turkic-speaking Muslim Uighur minority, who make up about eight million of its 19 million people.
Rich in natural resources, its economic development has been accompanied by large-scale immigration of Han Chinese.
Many Uighurs complain of discrimination and marginalisation by the Chinese authorities. Anti-Han and separatist sentiment has become more prevalent since the 1990s, flaring into violence on occasion.
In August 2018, a UN human rights panel cited "credible reports" that more than one million people were being held in counter-extremism centres in Xinjiang, raising concerns that China had turned the region into "a massive internment camp shrouded in secrecy".
China denied the scale of the detentions, but acknowledged that "religious extremist" Uighurs were undergoing re-education and resettlement.
Major state-run newspapers include the Chinese-language Xinjiang Economic Daily.
The authorities imposed a months-long shutdown of internet access in Xinjiang following the violent unrest in July 2009. Bloggers, netizens and website managers were "singled out for repression", Reporters Without Borders said.
In July 2017 authorities demanded that residents install an application on their mobile phones that scans the devices and reports back to authorities on what it finds.
Related Internet Links
The BBC is not responsible for the content of external sites.