South Korea conductor visits North Korea for rehearsals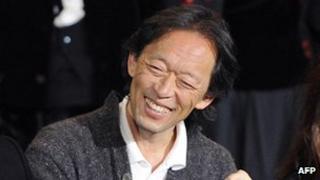 The renowned South Korean conductor Chung Myung-Whun is in North Korea to help its Unhasu orchestra prepare for a concert in France.
He will lead rehearsals before they visit Paris next month for a joint concert with the Radio France Philharmonic orchestra.
The visit comes as tensions remain high between the two Koreas.
Pyongyang rejected Chung's original proposal for musicians from the two countries to play together.
Chung arrived in the North Korean capital on Tuesday for three days of rehearsals with the Unhasu orchestra. He was travelling with his wife and assistant.
The orchestra then travels to Paris for the concert with the French ensemble, which Chung has led since the year 2000.
He is also the leader of the Seoul Philharmonic orchestra.
For several years, he has been trying to encourage closer musical links between North and South Korea.