Press split after North Korean rocket launch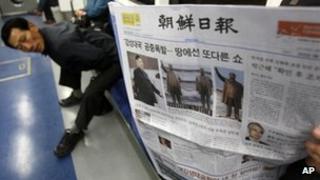 Chinese pundits and editorial writers warn the US, Japan and South Korea that overreacting to North Korea's failed rocket launch could lead to further unpredictable actions on the part of Pyongyang.
Papers in Hong Kong and Taiwan are divided over whether North Korea may now be driven towards reforms or whether the crisis on the Korean Peninsula will be aggravated.
Japanese and South Korean dailies denounce the launch as an act of folly and urge a united response to Pyongyang's "provocations".
Call for restraint
"Overreaction may provoke" North Korea and "corner it into further isolation", Ruan Zongze, the vice-president of the China Institute of International Studies, told Beijing's state-run China Daily in a front-page interview. He added that China was opposed to the US, Japan and South Korea deploying anti-ballistic missiles because this "will only militarise and spark conflict in the region".
An editorial in Beijing's Global Times, the English-language edition of the state-run newspaper Huanqiu Shibao, agreed that the US, Japan and South Korea "should avoid aggravating current tensions, which could prompt North Korea to take new, unpredictable actions". According to the paper, China "should urge all relevant parties to understand the long-term reward of restraint and refraining from bluffing and blustering".
The president of the China Institute of International Studies, Qu Xing, told the same paper that a "Cold War mentality will inevitably lead to an arms race on the Peninsula and prompt Pyongyang to resort to counter-deterrence measures against Washington and Seoul".
An editorial in Beijing's Huanqiu Shibao said the US, Japan and South Korea often call on China to take action to rein in North Korea while "the real key to changing North Korea's behaviour is held in their own hands".
But in an interview published by Hong Kong's Ming Pao, Prof Zhang Liangui of the Chinese Communist Party School acknowledged that it "will be a problem" for China to convince the international community that "China's aid has nothing to do with North Korea's radical rhetoric and initiatives".
Prospects for change
A commentary in Hong Kong's The Sun said North Korea's "rare admission of defeat" showed that "Kim Jong-un's way of doing things is different from his father's generation, and may show that the truth cannot be hidden in the internet age". The paper believes that the inability even of a totalitarian regime such as North Korea to deceive its people "will be the driving force for North Korea to head towards reform".
An editorial in Hong Kong's South China Morning Post said the rocket launch would have been a project inherited by Kim Jong-un, and "now that it has been completed, though it ended in failure, it is to be hoped this will serve to push Pyongyang to return to the six-party talks brokered by China to end its nuclear programme".
An editorial in Hong Kong's Singtao Daily, on the other hand, drew the opposite conclusion, arguing that the failed launch is a setback for North Korea "which makes one worry that... its hostility and anxiety towards surrounding countries will increase, thus pushing the crisis on the Korean Peninsula to a more dangerous brink".
Taipei's China Times warned in an editorial that "as long as countries do not unite and co-operate, North Korea will definitely replay its tricks and the problem will keep continuing".
"Folly"
An editorial published on the website of Japan's Asahi Shimbun daily described the rocket launch as an act of "folly" since "a higher priority was put on consolidating the foundations of the new regime of Kim Jong-un, a third-generation hereditary leader, than on feeding his starving people".
It added that Japan, the United States and South Korea "need to put up a united front and get China and Russia to join their efforts to send a strong message to North Korea".
An article by Park Byung-soo on the website of South Korea's Hankyoreh judged that the rocket launch had left North Korea "a loser on all fronts" since it was now "facing increased isolation and the possibility of extra sanctions on the international front, and a credibility crisis, rather than political success, at home".
An editorial published on the website of South Korea's Dong-A Ilbo agreed that Kim Jong-un "has lost face due to the botched launch" and warned that "the world will not turn a blind eye to Pyongyang's provocations".
"Hopefully, the failure will help the North's leader end the delusion of bringing about a powerful country and instead feed his people," the paper said.
BBC Monitoring selects and translates news from radio, television, press, news agencies and the internet from 150 countries in more than 70 languages. It is based in Caversham, UK, and has several bureaux abroad.