More press freedom for Burma's media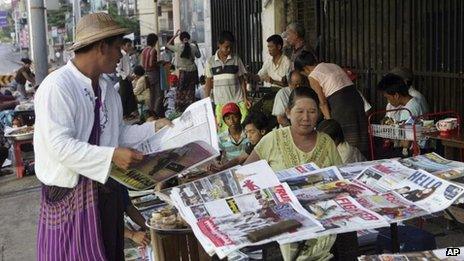 Cautious reforms being introduced by Burma's President Thein Sein are freeing up the rigid controls on the media.
Although repressive laws remain technically in force, practical guidelines have given print, television and internet journalists considerable leeway to report on everything including controversial political questions.
Information Minister Kyaw Hsan says a new media law is being drafted that will abolish censorship and replace it with a self-regulating Press Council.
After criticism in the exiled media that journalists were not being consulted, Kyaw Hsan invited some Burmese media players back home to help work on the draft with additional assistance from UNESCO, the UN cultural agency.
The minister says the law should be ready by the end of the year, and will be the second in a three-stage transition to full media freedom.
The first step allows publications to go to press without prior censorship, and the third will support the growth of private media in a country where there is only one independent television channel.
The first step has already allowed 173 newspapers and 124 magazines to publish without prior approval from the Press Scrutiny and Registration Department since December. These mainly cover business, sports, entertainment and crime news.
News publications remain subject to pre-publication approval, but even here censorship procedures have been relaxed.
As one editor put it, "Before, we couldn't write about anything - political prisoners or human rights. Now we simply write what we want, and then the censors can decide what to cut out."
Serious publications have been able to cover political topics, including interviews with opposition leader Aung San Suu Kyi on previously taboo matters like relations with the government and Burma's ethnic minorities.
A landmark moment came when Burma's only private television network, SkyNet, showed Aung San Suu Kyi addressing the British parliament. The subscription-only satellite channel is the sole alternative to state TV.
Internet access is limited in Burma, and not only because of state restrictions.
The prohibitive cost of computer ownership and home connections, coupled with poor infrastructure, has left less than one per cent of the population with access. Most users live in urban areas, and go online at internet cafes.
In September 2011 the government lifted restrictions on 30,000 internet sites, allowing users unrestricted access to political content for the first time.
International and exiled media, overseas opposition and advocacy groups, and social media sites like Facebook, Twitter and YouTube are now accessible. Only sites deemed pornographic are still systemically blocked.
The lively Burmese media scene abroad has given the reforms a cautious welcome, especially after exiled journalists were invited back for consultations on the media bill.
Reporters Without Borders (RSF), the Paris-based media watchdog, says it will soon drop Burma from its "Enemies of the Internet" list if the country continues its "promising period of reforms".
RSF has praised the release of many jailed journalists and the unblocking of access to some websites, but insists that Burma must still abolish censorship altogether, release all journalists and dismantle the internet surveillance apparatus.
BBC Monitoring selects and translates news from radio, television, press, news agencies and the internet from 150 countries in more than 70 languages. It is based in Caversham, UK, and has several bureaux abroad. For more reports from BBC Monitoring, click here