Charles Xue 'confession' highlights China's blogging backlash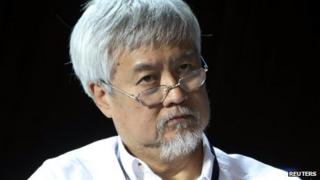 It was a humiliating stage for one of China's influential bloggers. Venture capitalist Charles Xue is used to communicating online - not while being paraded on state TV from his prison cell.
With 12 million followers, his opinions and musings were read far and wide. But shackled in handcuffs and wearing a green prison jumpsuit he instead gave his audience a public confession.
In what was perhaps the most dramatic moment in what some are calling China's biggest internet crackdown in years, Mr Xue admitted to spreading irresponsible posts online and believing himself above the law.
"This is completely unacceptable," he said to the camera, "and it leads to social chaos".
Mr Xue is one of the country's Big Vs - the V standing for verified user. These are an elite band of micro bloggers whose postings on the Twitter-like website Sina Weibo are read by millions of followers.
In August he was detained by police for soliciting prostitutes - allegations that prompted his supporters to accuse police of a set-up.
Following his public confession Xinhua, the state-run news agency, crowed that Mr Xue had been "toppled from his sacred altar". It added: "This has sounded a warning bell about the law to all Big Vs on the internet."
Online rumours
The Chinese authorities have introduced new measures to combat what they describe as online rumours, lies and scams. Hundreds of internet users have been detained in recent months. Those found guilty could face up to three years in jail.
Critics say the real reason for the crackdown is to curb the growing influence of the country's micro blogs - and reinforce the Communist party's hold on public opinion.
While internet crackdowns are common in China, what is really raising eyebrows is the decision by authorities to pursue some of the country's most influential online social commentators.
With millions of fans reading their postings, the Big Vs range from celebrities to academics and wealthy businessmen like Mr Xue. Most of their blogs are a blend of opinion, news and gossip, but some use their hugely influential posts to take a pop at government officials or focus on social issues such as air pollution.
"For the first time, the authorities have tried to explicitly rein in the Big Vs," says Bill Bishop, a China analyst.
Subtle controls
"The Big Vs were eroding the Communist party's ability to control the various media messages they are trying to get out. And ultimately setting the media agenda is one of the fundamental pillars of control."
China's leaders have grappled for years with how to control the internet. It has thrown up the "Great Firewall of China" which blocks social networks such as Facebook and Twitter and some international news sites.
An employee from one of the country's top internet companies told me about more subtle forms of control.
"The top bloggers are all assigned special editors," said the employee - who did want to be named for fear of losing her job. "These editors deal with the censors. They'll pass on messages when a post needs to be deleted. It's a bit like customer service.
"My company has created a platform that promotes discussion. As you can imagine, I hate all the censorship."
In recent years China's internet has become an often boisterous and unruly forum for public opinion. Many hoped the relative freedoms they enjoyed online would continue to be relaxed under a new leadership installed earlier this year.
But with Mr Xue's public humiliation China's new leaders are warning others to toe the Communist Party line.