Rheumatism sufferers sought relief inside a whale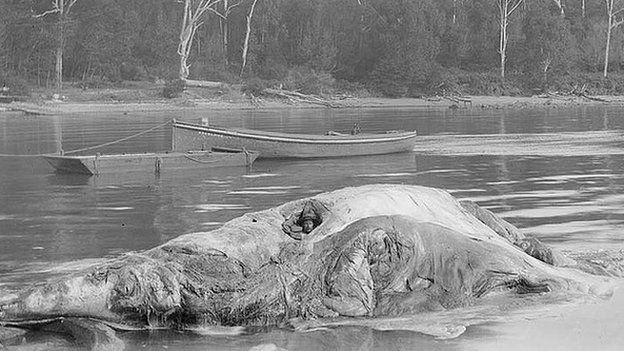 Climbing inside the carcass of a whale was once thought to bring relief to rheumatism sufferers, an Australian National Maritime Museum exhibit shows.
Staying inside the whale for about 30 hours was believed to bring relief from aches and pains for up to 12 months, the Sydney Morning Herald reports.
It was thought to have started in the whaling town of Eden on Australia's southern coast.
The practice is documented as part of the museum's special whales season.
'Tempting morsel of flesh'
A rheumatic patient would be lowered inside the carcass of a recently-slaughtered whale "leaving just his or her head poking out," the Sydney Morning Herald reports.
One claim for the origins of the practice, which dates back to the late 19th Century, is that a drunk man plunged into the carcass of a whale and emerged hours later apparently free of his rheumatism.
A story on the incident was published by the Pall Mall Gazette (later absorbed by the Evening Standard) entitled "a new cure for rheumatism" on 7 March 1896.
It said "a gentleman of convivial habits but grievously afflicted with rheumatism" had been walking along the beach with friends when he spotted the whale, which was already cut open, and "appeared to our hilarious friend a tempting morsel of flesh".
His friends, horrified by the heat and smell, left him inside for several hours, until he emerged sober and devoid of his rheumatism.
The paper says the incident, which occurred a few years prior, gave birth to the bizarre practice.
"The whalers dig a sort of narrow grave in the body and in this the patient lies for two hours, as in a Turkish bath, the decomposing blubber of the whale closing round his body, and acting as a huge poultice," it says.
The curator of the Australian National Maritime Museum exhibit, Michelle Linder, told the Sydney Morning Herald, it was unlikely to have been "a really popular thing to do".
''I don't know (if) there was scientific evidence per se (to support the practice) but there was hearsay at the time that they felt better after being in the whale", she adds.
Rheumatism is a condition causing pain and swelling in the joints, commonly affecting the hands, feet and wrists.