Blood money spares Indonesian maid from Saudi execution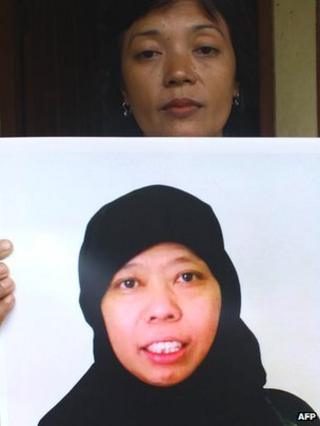 Indonesia will pay $1.8m (£1m) in blood money to prevent an Indonesian maid being executed in Saudi Arabia.
The maid, known as Satinah, was due to be beheaded in the next few days after being found guilty of murdering her female employer seven years ago.
A campaign in Indonesia by the 41-year-old's family and supporters had raised some of the money needed to compensate the victim's family.
The Indonesian government has now decided to provide the rest.
Execution due
Satinah hit her female boss, Nura al-Garib, in September 2007. Her employer fell into a coma and died later in hospital.
After the attack, Satinah fled with nearly 40,000 riyals ($10,700), but was caught.
In her defence, she claimed that her employer had treated her badly. Satinah said she had only hit her boss because she had grabbed her hair and banged her head against a wall.
The campaign to raise the blood money in Indonesia involved politicians, celebrities and civil society organisations.
The victim's family reduced the amount needed but, just days before the execution was due to take place, not enough had been raised.
An Indonesian official told the BBC that the government had then decided to pay the remainder. He said that Satinah now faces a retrial.
But not everyone in Indonesia supports the move. Some do not believe public money should be used to spare someone convicted of murder.