Indonesia economy: Your questions to Linda Yueh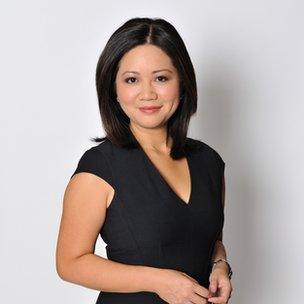 Indonesia elects a new president next week as favourite Joko Widodo faces former general Prabowo Subianto.
The financial future of the country will be a key issue.
As the world's third largest democracy goes to the polls, what will it take for Indonesia to realise its considerable potential?
On Wednesday 2nd July at 0800 GMT (0900 BST) our Chief Business Correspondent Linda Yueh answered your questions on the Indonesian economy for an hour using the hashtag #AskBBCLinda and questions submitted by email.
Q: Marzuk via email: Concerns over economic growth slowing, what must both candidates consider when voters head to the polls?
A: Raising growth requires improving infrastructure & education to raise productivity; also more savings needed for investment
Q: Aini Arin via Facebook: What will a Joko Widodo win mean for the Indonesian economy?
A: He vows to cut fuel subsidies that frees up funds for infrastructure & growth but need consistent view on foreign investment.
Q: Jonathan Pevec via Facebook: Can Indonesia grasp the reality of real & sustainable progress?
A: Yes but requires shifting from resources/agriculture to industry & must improve biz environment to create middle class jobs.
Q: Jack Parish via Twitter: Is Britain a bit short sighted when making trade links in the East & should do more with Indonesia?
A: UK is reorienting toward BRIC & Indonesia is largest economy in SE Asia with 240M people/potential market so warrants attention
Q: Batara Soepraba via Twitter: Do you agree no matter who leads- the economy will grow bec of sheer large consumption power?
A: Indonesia has huge potential with 4th largest population only after US; unless policy takes a drastic turn, strong prospects.
Q: Alistair Gray via email: What are the key sectors where Indonesia has genuine competitive advantage in new global economy?
A: Resources & manufacturing w pop'n only smaller than US; upgrading from fmr to latter challenging w billion+ pop'n neighbors.
Q: Ben Chen via Facebook: How to bring Indonesia forward from agricultural archipelago into 1 befitting its size & importance?
A: By industrialising which can be hard for a country specialising in commodities; must raise saving & invest in infrastructure
Q: Mark Tang via Twitter: What likely influence is Indonesia going to have in the coming decades given the superpower of China?
A: Indonesia is 4th most populous nation w huge potential/already largest economy in SE Asia so depends on capitalising on size
Q: Sandy Suryananda via Twitter: how should Indonesia prepare itself to face AEC2015? What are the challenges & opportunities?
A: Well-placed at centre of potential single market that wd rival EU in population; challenges: industrialise when integrating.
Q: yosafatDKA via Twitter: how can the new president for growing the market rapidly so Indonesian people are not left behind?
A: Invest more in infrastructure, education & reduce policy uncertainty to grow fast enough to create jobs & support min income.
Q: Tito Sianipar via Twitter: Indonesian economy without corruption. Is it possible? What should Indonesians do?
A: Corruption unfortunately exists everywhere so being vigilant in a democracy is essential; 1 reason for poor infrastructure.
Q: Frank van Dijk via Twitter: What is the strongest asset of Indonesia compared to its competitors?
A: Population- 240+ million population was size of US in 1980 when it was main engine of global economic growth; huge potential
Q: Patrick Ciayadi via Twitter: Should Indonesia start nuclear-based energy source for economic purposes?
A: Indonesia is richly endowed & 17k islands offer lots of opportunities for hydropower, wind, etc. so green energy is possible.
Q: Inquio via Twitter: How to make Indonesia top of mind as a British tourist destination?
A: Emphasise the sunshine, political stability, food & service -- Bali for instance.
Q: Tim Hill via Twitter: Do you think there will be much difference in the economic outlook after the election?
A: Not immediately as Indonesia has come back fro brink as 1 of Fragile 5 economies by cutting external deficit but can change
Q: David Luyster Jr via Twitter: Coke or Pepsi?
A: Since I joined the BBC, I no longer have any opinions.