How does North Korea do business under sanctions?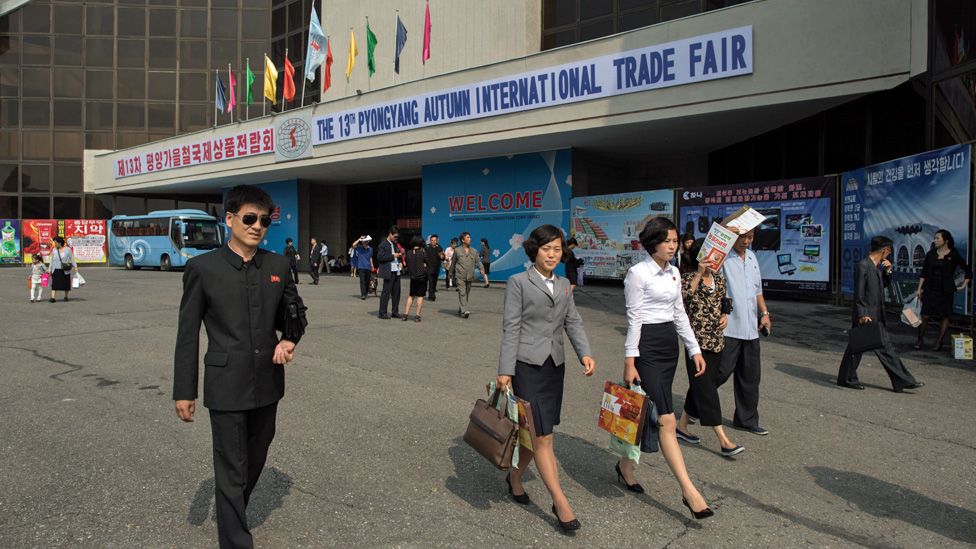 It might have been under sanctions for more than a decade, but sometimes North Korea appears to do business like any other country.
Organisers of the Pyongyang Autumn International Trade Fair in September said more than 250 domestic and foreign companies exhibited goods in the North Korean capital.
State media reported on a successful event that saw businesses from Syria, China, Cuba, Iran, Italy, Indonesia, Vietnam and Taiwan attend.
The severe sanctions put many off. The sanctions were strengthened on 23 December again, to include a limit on oil exports to North Korea and a ban on imports from North Korea on products such as food, machinery and electrical equipment.
For most companies North Korea is too risky. But Paul Tjia, the founder of a Dutch IT consultancy who runs trade missions to North Korea, is more enthusiastic.
Mr Tjia led a European delegation to explore business and investment opportunities in Pyongyang in May.
"Everybody wants to do international business," he says.
Mr Tjia says that ethical concerns about doing business with the government of Kim Jong-un are outweighed by the benefits of helping to boost the North Korean economy.
"If you want to see improvements it has to be done by the people themselves."
Scrolling through the latest edition of North Korea's Foreign Trade of the DPRK publication, readers are presented with an array of goods for sale. From medical instruments and luggage to soap and even an "iPad" tablet computer (it's no longer called "iPad", a name already known for belonging to Apple).
An openness to trading made-in-North Korea goods, and building contacts with foreign clients, is just one way North Korea does business with the outside world.
"Everybody in the country has to be entrepreneurial to survive," says Justin Hastings, who researches North Korean trade at the University of Sydney.
"They have to find very creative ways, adaptable ways, to make money because, you know, the world is out to get them."
The trade magazine and press reports give an impression of normality not often associated with Kim Jong-un's regime.
So does anyone actually buy these North Korean goods?
It's very difficult to know, says Stephan Haggard, a professor of Korea-Pacific studies at University of California San Diego and an expert on the North Korean political economy. However, the products are definitely not for show.
"These trade fairs are not for propaganda purposes, they're for business," says Prof Haggard.
"They develop these lines of business in part because they believe there is a market."
North Korea does most of its trade with China, possibly as much as 90%. That's why China is seen by many countries as key to North Korea stopping its nuclear weapons programme by stopping the flow of money across its border.
President Trump in particular has called on Beijing to impose the toughest UN sanctions yet on exports such as coal, seafood and textiles. If fully enforced, one-third of North Korea's revenue from foreign trade will be wiped out, says the US state department.
The UN has already frozen the asset of dozens of North Korean companies involved in foreign trade, partly because the regime takes a big cut of business done in the outside world. It includes the export of goods, but also its own people.
The most lucrative source of foreign currency might come from North Korean workers toiling in shipyard and construction sites in as many as 40 countries around the world.
North Korea has special trading companies that arrange employment contracts with foreign companies in places such as Russia and China but also in some African and European countries.
Research based on the testimonies of defectors has found that most of a worker's salary is sent back to North Korea - at least two-thirds.
Despite forced-labour conditions imposed by North Korea, overseas work is highly prized. The North Korean government puts a lot of effort into the selection process and enforces a strict surveillance system in the host country to reduce the risk of workers defecting.
Potential employees have to demonstrate proven loyalty to the regime to be considered for overseas work, says Teodora Gyupchanova, a researcher at the Database Centre for North Korean Human Rights, which is based in the South Korean capital, Seoul.
Interviews with defectors reveal that it is often married men with children who are chosen for these posts. It means both the man and his family risk being punished for breaking the rules and "in a sense being held as a hostage", says Gyupchanova.
One report by the Leidan Asia Centre into North Koreans working in Poland found a rigid structure of control that meant "ideological study sessions" were required to honour Kim Jong-un.
Under the latest UN resolutions, countries are not allowed to issue new authorisations to North Korean workers and they have to repatriate workers after 24 months: overseas labour is worth at least $1bn a year to North Korea (although many people believe that figure could be much higher).
However, when it comes to sanctions North Korea has a long track record of evasion.
The country's involvement in the arms business became clear when Cuban Soviet-era weapons, including two fighter jets, were among 240 tonnes of weapons found on board a North Korean ship, the Chong Chan Gang, in 2013. Cuba said it was sending the weapons, hidden under sacks of sugar, for repair in North Korea.
More recently, in August 2016, 30,000 rocket-propelled grenades were found on the Jie Shun bound for the Suez Canal, according to a report to the UN Security Council.
The report said the ship sailed under a Cambodian flag of convenience but was captained and crewed by North Koreans.
North Korea has been under an arms embargo since 2006.
Wooden crates containing the grenades were buried under 2,300 tonnes of limonite (iron ore), which is also banned under a UN resolution. The consignment was falsely labelled "assembly parts for underwater pumps".
North Korean traders have also been accused of deploying front companies as a tactic to hide arms dealings.
The UN has linked North Korea to a company called Glocom, a firm that has reportedly sold military communications equipment to countries including Eritrea but is based in Malaysia.
The UN report described Glocom as "a front company of the Democratic People's Republic of Korea company Pan Systems Pyongyang Branch". That company is affiliated with the Reconnaissance General Bureau, the main North Korean spy agency.
While the North Korean brand may be toxic to most, the country has not collapsed, in part because it has learned how to do business as a pariah state.