New Zealand Covid: Men caught smuggling KFC into lockdown-hit Auckland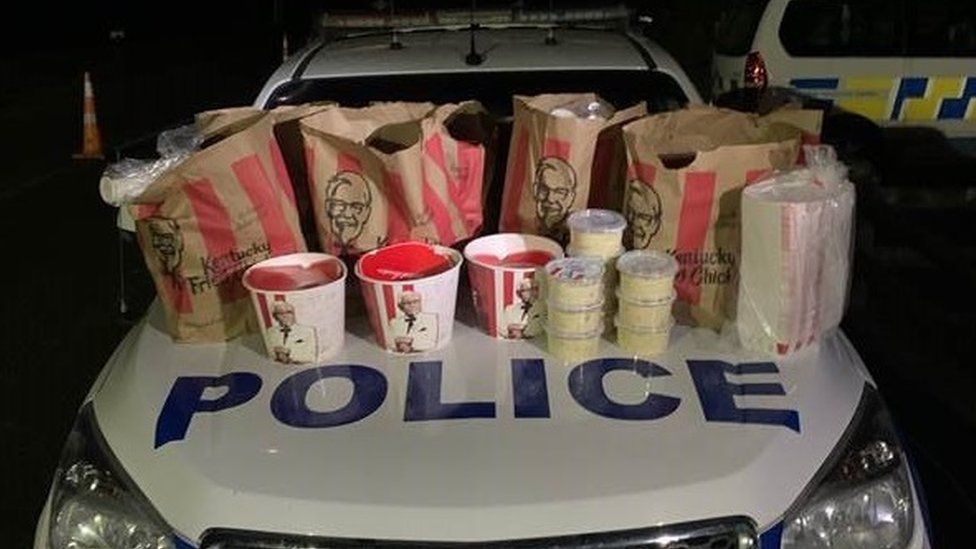 NZ police have made a bizarre arrest after a pair of alleged gang associates were caught trying to enter Auckland with a boot full of KFC chicken and tens of thousands of dollars.
The men were charged with breaching the country's tough Covid-19 rules.
Under Auckland's strict Level 4 lockdown, all restaurants, including take-away services, remain closed.
Police said the men, aged 23 and 30, had travelled from Hamilton, about 75 miles south of Auckland.
A police spokesperson told the BBC that officers made the arrest after they noticed a suspicious looking vehicle travelling on a gravel road on the outskirts of the city.
"Upon seeing the police car, the vehicle did a u-turn and sped off trying to evade police," they said. "The vehicle was searched and police located the cash, alongside empty ounce bags and a large amount of takeaways."
Police photos showed at least three buckets of chicken, about 10 cups of coleslaw, a large package of fries, and four large bags containing other KFC items.
They also seized NZ$100,000 (US$70,000; £51,000) in cash.
It is unclear whether the men intended to sell the food or if they hoped to use it as a distraction if they were to be pulled over.
The spokesperson said that the men would appear in court later in the year for breaching public health rules but added that further charges are also likely. The investigation is ongoing.
The pair's risky late night food run means they now face heavy punishments under New Zealand's tough anti-Covid laws. Fines can reach up to NZ$4,000 and some offenders can even face prison sentences of up to six months.
The men are not the first New Zealanders whose fast-food cravings have landed them in trouble with authorities. Last week a 20-year-old man was charged after he posted a video on Tiktok showing him leaving Auckland and purchasing a large amount of food from McDonalds.
Auckland will move to a Level 3 lockdown from midnight on Tuesday. However, freedoms will still be severely limited, with residents confined to their homes unless they are attending school, work or shopping.
The rest of the country remains at a Level 2 lockdown with shops, restaurants, bars and nightclubs all open.