Australia prepares for 'dangerous' bushfire season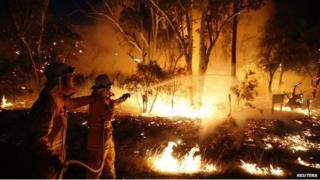 As Australia prepares for another horror bushfire season, experts are warning that some areas of the country are becoming uninhabitable because of the increased risk of fire and that worse-than-normal seasons are becoming the norm.
And one of the country's top firefighters has warned that the loss of homes was now inescapable as climate change drives more frequent and fiercer blazes.
Hot, dry conditions in the lead up to summer have increased the likelihood of "very high fire danger weather" in the nation's most populous state, New South Wales, according to a new report from independent research body the Climate Council.
Last year was Australia's hottest on record and last summer was the driest that Sydney, the capital of New South Wales, had experienced for almost 30 years.
The Climate Council predicts the total economic cost of bush fires in NSW - where the current bushfire season began two months early - will be A$43m ($37m, £24m) in 2014.
Across Australia, they already cost upwards of A$337m each year and by the middle of the century, this is expected to rise to around A$800m annually.
The concept of a "normal" fire season was redundant and people had to accept that property losses were now inevitable, said Fire and Rescue NSW Commissioner Greg Mullins.
"We're getting better and better technology but it can't keep pace," Mr Mullins said.
"We treat every summer now as worst-case scenario. On [catastrophic fire weather warning] days, there's basically nothing we can do except save lives by getting information out there."
Homes that have not been properly prepared will be left to their fate by firefighters who must consider their own safety first, he warned.
Mr Mullins also said that the men and women who fight to control and extinguish bush fires have been experiencing the impact of climate change first hand.
"We don't care what the debate [about climate change] is, we see it," he said.
Climate change is increasing the frequency and severity of bush fires, said Professor Lesley Hughes, a councillor on the Climate Council.
"What climate change is doing is increasing the risk of fire danger weather," she said.
"We're looking at a particularly hot and dry and dangerous season again."
'Uninhabitable'
This month, the Winmalee community in the Blue Mountains west of Sydney marked the one year anniversary of the devastating fires that blazed through the small community and surrounds, destroying almost 200 homes and thousands of hectares of bushland.
These kinds of fires will become increasingly prevalent, said Prof Hughes, who launches the Climate Council report in the Blue Mountains on Tuesday.
"The community suffered enormously last year," she said.
Eventually, she said, some areas of Australia will become uninhabitable due to increased bushfire risks and other natural disasters made worse by climate change, such as floods and coastal erosion.
"One of the things that will drive the depopulation of certain areas will be insurance. If you can't insure [your house], it's basically valueless," she added.
Benign fire seasons are expected to be the exception, rather than the norm, in the future, the Bushfire and Natural Hazards Cooperative Research Centre (CRC) said.
In its seasonal bushfire outlook for 2014, the CRC noted: "The concept of an average or normal fire season becomes less meaningful as historical, long-term averages are surpassed by fire seasons that are regularly above average in either duration, area burnt, or in the total number of fires."
This year, the conditions have been ripe for a season of above "normal" fire for large parts of southern Australia.
High temperatures are expected to combine with below average rainfall since May across most of Queensland, northern and eastern NSW, northern South Australia and large parts of south west Western Australia, according to CRC chief executive Dr Richard Thornton.
"The forests are very dry and will continue to dry out during the coming warmer days and months. Most of our major capital cities in mainland Australia are the areas that are at risk, this year."
The CRC expects that only South Australia and Tasmania are expected to experience a "normal" fire season, this summer.