My Day: Aid Worker Marg Sacre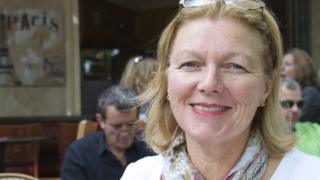 Marg Sacre is an experienced former nurse unit manager at St Vincent's Clinic in Sydney who is also an aid worker for the Red Cross. She is often called at short notice to travel overseas to a disaster zone. Not every day is the same, but the goal is always to help victims of natural disasters.
"By default I have to get up early as there's always so much going on around me. But nothing happens until I have had a coffee and a piece of toast.
Years ago, I was travelling around the world with friends and we thought, 'Sydney looks good, think we'll stay', and we all ended up marrying Australians.
Even in England I'd wanted to work overseas and do aid work. But it doesn't always fit your lifestyle. When my kids were in their twenties I thought, "Oh, now I'll do what I've always wanted to do."
It wasn't as straight forward as I thought, joining an aid organisation like the Red Cross. They suggested I do further education so I did a masters degree in international health. And then I went on the Red Cross basic training camp, learning how to drive a four-wheel drive and what to do in emergency situations.
First mission: 2004 Aceh tsunami
I chose the Red Cross because they are a-political, they help anyone on a pure needs basis and that appealed to me.
Once on their roster, I was expecting to perhaps go to Africa for a few months. Instead, in 2004 a tsunami hit Aceh on Boxing Day. Six weeks later, with 24 hours notice I was off on my first mission.
The Red Cross is highly organised and very efficient. You have hospitals that pop up in a day out of boxes, with operating theatres and intensive care beds, and water sanitation engineers arrive.
In Aceh, patients arrived with terrible injuries, like they had been in a washing machine with metal. Lots of fractures, infections from dirty water, men with psychological injuries because they had lost entire families, pregnant women who had lost other children.
One young man who trod on electric cables had scalp and bone burnt off. You could see his brain. Good old basic nursing training kicked in and the Red Cross training helps you cope psychologically.
Afterwards, I came back to the wealthier end of Sydney and had to discipline myself, walking into a supermarket and walking out again, thinking I couldn't cope with the excess. It was harder for me to adjust coming home than it was for me going, I think.
Life-changing
I was really into languages as a kid and planned to do Spanish and French at university. Then at my sister's wedding, I met a nurse who said I should do nursing. My mother was a nurse so I quite liked the idea. Did that conversation change my life? I guess it did.
I went to St Thomas' Hospital in London. The training was so hard but there was fabulous camaraderie and even after three months of scrubbing bed pans and being poked by sisters with sticks, I still loved it.
When I was in Pakistan in 2005 after an earthquake had hit Kashmir, the Red Cross gave a 60 Minutes news crew, who were doing a story about aid workers, my phone as a contact.
I thought the producer, Howard Sacre, was charming. He offered to call my children when he got home to say he had seen me alive and well. I got an email from my son saying someone had rung from Egypt and the kids were pretty impressed. It's not a place you go looking for love.
I was switching helicopters and heading to Islamabad when he called and asked me if I'd like a coffee when I got home. So we met in 2006, got together in 2007 and married in 2008.
I retired from the clinic in April, last year but retirement is busy!
With a friend, I have started a medical venture. I have been asked and am interested in going overseas to help with the Ebola crisis but for personal reasons I can't go right now.
With good enough health precautions you're not going to get Ebola, and having enough staff is key to survival. You stay for shorter periods of time and don't get worn out and make mistakes.
We have to send more people and support the Red Cross and not pretend Ebola won't arrive in Australia or the US or anywhere else.
Someone has to go, don't they?
Marg Sacre was speaking to Flip Byrnes in Sydney, Australia.