High Australian real estate prices lead to bubble fears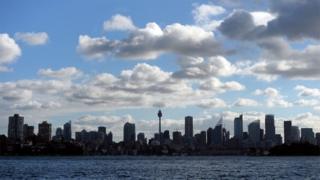 Real estate has long been an Australian obsession and sharp spikes in house prices across Australia's major cities in recent years have fuelled the passion for property. But it is not easy working out who or what is to blame.
Fluctuating prices, and what triggers them, are studiously followed in a country where two-thirds of the population own their own home.
The most spectacular growth has been in the notoriously fevered Sydney market, which has grown 15% over the 2013-14 financial year, compared with a combined 10% across all the state capital cities, according to figures from property information firm RP Data.
The median house price in Sydney has now reached a jaw-dropping A$800,000 ($697,000, £440,000), many times the average wage.
Hardly surprising, therefore, that Australian house prices are among the least affordable in the economic bloc of more than 30 OECD countries, leaving a generation of renters with dwindling prospects of achieving the dream of home ownership.
---
Prime International Residential Index - Square meters US$1m will buy
Monaco 15
Hong Kong 21
London 25
Singapore 33
Geneva 35
New York 40
Sydney 41
Paris 42
Moscow 43
Shanghai 46
Source: Knight Frank
---
Clearly, the boom reflects market forces: demand has outstripped supply in Sydney and Melbourne but what is stimulating this ferocious appetite?
Is it moneybags investors looking to boost their retirement incomes, cashed-up buyers from China, low interest rates, preferential tax regimes or planning laws stifling development?
The truth is complicated, and what affects one city, or suburb, almost certainly will not apply to places and properties elsewhere.
Chinese demand
For example, while residential markets in Sydney and Melbourne performed well, sales this year in Perth have been subdued.
"The resources-based economy, which is largely affected by fluctuations in iron ore, gold and precious metal prices, is very slow. There has been a big reduction in employment opportunities in Western Australia and that has fallen back into the property market," says David Airey, president of the Real Estate Institute of Western Australia.
On the other side of the continent, it is a very different story.
"Buying pressure in Sydney has come from overseas investors literally buying everything they can, particularly from Asia," Mr Airey says. "Sydney prices look cheap to them. They look expensive to Australians but A$1m really doesn't buy you very much."
The impact of Chinese investment is the subject of on-going studies at the University of Technology, Sydney (UTS). Dr Adrian Lee, a postdoctoral research fellow at UTS Business School, says Chinese nationals are only allowed to buy new, not established properties in Australia. But he questions whether Australia's Foreign Investment Review Board "has adequately enforced the restrictions".
Dr Lee believes the flow of money will increase.
"I think Australian property will continue to be favourable to China's growing middle class as they perceive Australia as a great place to eventually live in for themselves and their families," he says.
'Fraught with danger'
Another culprit in climbing house prices is Australia's so-called negative gearing, which offers a tax break to more than a million investors who make a loss on their property investments, says Dale Boccabella from the University of New South Wales, who describes negative gearing as a "defect in the system".
"No-one is going to be able to tell us the extent to which the continuing of negative gearing is putting pressure on house prices but it must be making some contribution," says Mr Boccabella. "It is so entrenched. People have just latched onto it. It is part and parcel of the culture."
With some of the world's most expensive bricks and mortar, Australians are often warned the housing market is a bubble that will eventually burst.
In September, federal treasurer Joe Hockey rejected those grim projections as "lazy analysis", adding that he didn't "see at the moment any substantial risk" because supply wasn't meeting demand.
But real estate agents do see the potential for trouble ahead because of reckless lending to some buyers.
"The flow of credit for first-time home-buyers is far too easy," says Mark Wizel, a director of real estate firm CBRE in Melbourne.
"I think that it is a market that is fraught with a bit of danger because if there is a correction in the housing market buyers that have over-extended themselves to take up the opportunity of the great Australian dream may be left exposed."
Predicting where the market goes from here is a national pastime but agents in Sydney believe booming sales will begin to slow towards the end of the traditional peak spring period.
The Reserve Bank of Australia is also considering reforms to prevent what it believes is excessive speculation by investors that has helped to drive prices higher.