Finding kinder ways to live with Australia's wildlife
By Fran Molloy
Sydney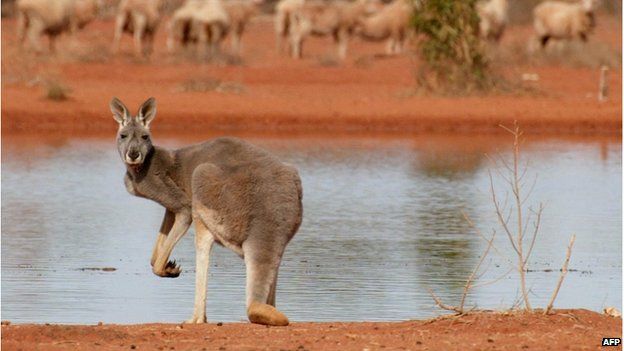 Wild animals in Australia that pose a threat to humans or livestock have been systematically shot, trapped and poisoned for more than two centuries.
Crocodiles, sharks and dingoes are among Australia's most feared wild animals, subject to major culls following attacks on humans. Kangaroos, which feature on the national coat of arms, have been killed to protect grazing land and even racetracks.
But an embryonic movement to live more harmoniously with native and some non-native animals is slowly taking hold in scientific and government circles, and in some parts of the country, scientists, farmers and local authorities are working together to find kinder and more effective ways to live with wildlife.
At the University of Technology, Sydney (UTS) in New South Wales, Dan Ramp heads the Centre for Compassionate Conservation. He says the theory of compassionate conservation has moral, scientific and economic credibility.
"Years of research shows us that killing animals often makes no difference to the conservation targets we have set ourselves, so we need to think about other ways of engaging."
A prime example of the failure of programmes that try to control animals by culling can be found in Western Australia.
Last summer, following a spate of fatal attacks by great white sharks, the state government instituted a 13-week trial where baited drum lines were set off Perth beaches.
During the trial, which cost the government A$1.3m (£710,000; $1.14m), 68 sharks were caught and shot, but none of them were great whites.
In New South Wales, Mr Ramp is working with Bathurst Regional Council, after its 2009 cull of kangaroos near the Mount Panorama motorcar racing circuit provoked an international outcry.
Bathurst Regional Councillor Jess Jennings says that about 90% of the 6km track has now been fenced and the council has retained UTS scientists to monitor kangaroo behaviour so they can be better managed when races are held.
"Culling all the local kangaroos would hurt tourism - and still couldn't guarantee that a single lost kangaroo travelling through the area wouldn't jump the fence onto the track," says Mr Jennings.
In Victoria, tourism and local governments have protected a population of penguins by introducing a pair of Maremma guardian dogs, a breed whose natural territorial behaviour deters local foxes that had previously devastated the colony.
Since the dogs arrived in 2006, penguin numbers have climbed from 10 to nearly 200 - and it has been done without wiping out foxes.
"It's a great project that the whole community is very proud of," says Peter Abbott, Warrnambool City council tourism manager, although he admits that baiting and shooting foxes is still carried out beyond the penguin colony.
Bathurst sheep farmer Ian Whalan lost many lambs to foxes before he invented a sequential light system that deters the animals at night.
His Foxlights are now used to deter nocturnal predators worldwide, including protecting yaks from snow leopards in Nepal and deterring elephants from raiding crops in Zambia.
But despite isolated moves towards compassionate conservation, most wildlife management in Australia takes a terminal view.
"By far the option of choice for animal control in Australia is killing," says Greg Baxter, president of the Australasian Wildlife Management Society, which represents wildlife researchers and practitioners in the Australian region.
He agrees lethal methods may be less effective in the long term but says landowners want fast, visible results.
"They want to see fox pelts and dingo pelts hanging on a string of barbed wire to show something has happened," he says.
Brad Purcell, a Churchill Fellow and now a lecturer in environmental management at the University of Western Sydney, spent years tracking dingoes in the Blue Mountains west of Sydney, examining the role the wild dogs play in the local ecosystem.
He found that dingoes hunt selectively, controlling not just the population but also the behaviour of their prey, and affecting the whole ecosystem.
"Kangaroos become more cautious and more wary, and assign sentinel animals so they are constantly on the lookout and don't forage simultaneously."
"When a dingo comes, the mob will scatter, hiding in a shrubby area and then later feeding on a different hillside," he says.
This wider distribution of species and their feeding habits has a huge impact on the landscape, he adds, and helps vegetation regenerate.
Wild dogs are currently a declared pest, with rangers and landowners obliged to eradicate them, often using costly poisoned baits. Mr Purcell says the strategy does not work because when one pack is cleared another usually moves into the area.
He says understanding the behaviour of dingoes is key to peaceful co-existence, and techniques like deterrent lights, marking territory with other dog scents and staggering livestock rotation to fit with dingo breeding seasons will deliver wider benefits.
"Ultimately, we need to adapt to the ecosystem rather than make the ecosystem adapt to us."