Iraq approves Australian anti-Islamic State forces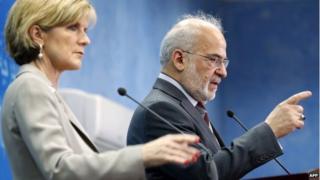 Australia has reached an agreement with Iraq to allow 200 special forces personnel to train local troops to fight against Islamic State militants.
Foreign Minister Julie Bishop said the military would now decide when to deploy the special forces group.
The unit has been waiting in United Arab Emirates for a month, amid a legal row between the two sides.
Australia is a major contributor to the US-led coalition against Islamic State, which controls parts of Syria and Iraq.
It has committed a total of 600 troops to the fight, including the special forces group.
Its pilots began bombing raids earlier this month.
But the special forces contingent was held up in UAE because Iraq would not give the unit the legal protection Australia demanded.
"We have reached an agreement for a legal framework and now it will be a matter for our military when our special forces will be deployed," Ms Bishop said at the end of a two-day trip to Baghdad.
Despite a huge effort by the US and its allies, Islamic State militants are continuing to rule over large parts of Iraq and Syria.
In recent weeks, the group has carried out a wave of suicide attacks, and has fended off attacks by Iraq's armed forces.
Militants are also embroiled in fighting with Kurdish forces in the northern Syrian town of Kobane.
Kurdish fighters claimed to have repelled the Islamist militants last week, but reports on Sunday suggested IS had staged another huge attack on the town overnight.
Western powers have been attempting to help the Kurds, but crucial regional player Turkey has repeatedly stated it will not provide any support to them.
IS staged dramatic attacks on areas of Iraq and Syria over the past year, quickly setting up an infrastructure and local government.
The group is notorious for its brutal tactics, beheading hostages on video and carrying out suicide attacks.