Sydney playwright on 'radical' art of radio drama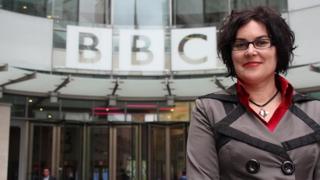 In an era seemingly dominated by the Twitterverse and YouTube videos of cats in parachutes, writing plays for radio seems like an ancient art. But a Sydney playwright has injected new life into the medium.
Radio drama creates an intimate connection with listeners, says Alana Valentine.
"People often listen in their cars or in the bath or on headphones in bed," she says, speaking from London where she recently won the BBC International Radio Playwriting Competition for her script The Ravens.
"The listener has to create the set, they have to create the pictures. I do think that is appealing to listeners."
Valentine, whose radio and stage work is well-known in Australia, doesn't believe radio drama is a dying medium.
"People said the internet would take over television, which took over radio, which took over theatres but what is actually happening is it's just more people adding another medium to their listening," she says.
"The internet means a lot of people can listen to the [BBC] World Service online. No writer is going to turn up their nose at a potential 40 million listeners."
'Celebrate diversity'
Set in Sydney's red light district, The Ravens is now in production at the BBC World Service and will be broadcast globally sometime in the next few months.
The play was recorded in London on 22-23 October with Australian actors Sophie Ross, Ben Lewis, Vivien Carter and Josie Taylor.
Research for the play included a two-month residency at a women's refuge in Sydney where Valentine spent time with women in safe injecting rooms and strip clubs.
"It's about a young woman who has lived in [Sydney's] Kings Cross for a long time and has worked in the sex industry," she says. "She's recently been a victim of crime and she's received a very big compensation payout but it's creating more problems than it solves."
Valentine was awarded first prize in the category English as a First Language in the BBC award. Zimbabwe's Virginia Jekanyika triumphed in the English as a Second Language category with her radio script The Cactus Flowers.
The competition, now in its 24th year, invites anyone resident outside the UK to write a 53-minute radio drama for up to six characters. This year's competition attracted nearly 1,000 entries with plays from a record 86 countries, including Jamaica, Rwanda, the Philippines, Botswana, Ukraine and Brazil.
It's an important award, says Valentine, because it affirms the world's diversity.
"I think we live in times where there are people who don't believe we should have plurality of opinion or celebrate diversity," she says.
"The BBC World Service goes into countries where the freedom to say what you want are not the same as those we have in Australia. The World Service is serving a very important purpose."
Lorikeets and cockatoos
Valentine began her writing career in radio drama in Australia.
"I am a passionate radio listener and I am very inspired by the innovative ways radio producers use sound," she said.
Best known for her plays Parramatta Girls and Run Rabbit Run, Valentine's work is regularly produced across Australia on main stages and in youth and community venues. Many of her plays are based on verbatim interviews or historical research.
"For The Ravens, I recorded 30 minutes of street sound in [Sydney's] Redfern to get the Australian birds right. I have sounds of traffic going past, with lorikeets and cockatoos screeching. The producers in London are asking, 'Do you really get that in inner city Sydney?' Anyone who lives in Sydney can tell you we do."
Despite recent cuts to the ABC's radio drama output, the Australian Writers' Guild still has an award category for radio plays, and many playwrights still value the medium, Valentine says.
"Writers can be more radical with radio because there are fewer gatekeepers. You don't have to go through seven or eight people to approve the script. It's usually just you and the producer and the executive producer.
"Also, you can be wild! If you want a helicopter to land or set the story to Paris in the 1930s, you don't have to find the budget."
Valentine's current project is The Fox and the Freedom Fighters, about aboriginal activist Charles "Chicka" Dixon, told from the perspective of his daughter Rhonda Dixon-Grovenor and granddaughter Nadeena Dixon. The play opens in Sydney on 12 November.